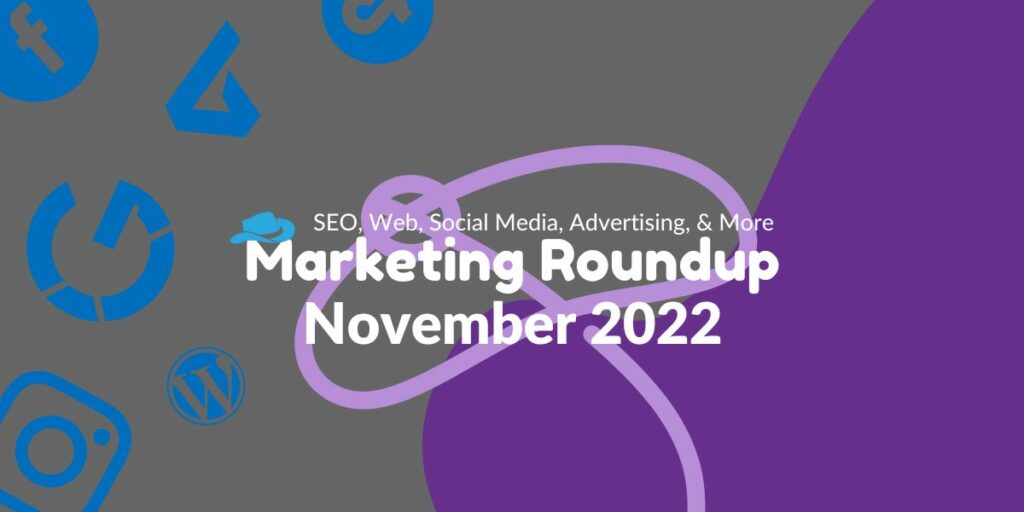 Posted by Aimee Cozza on November 1st, 2022
It's time for another roundup! We tackle a few key changes in marketing that happened over the past month so you're in the know. Take a look at what's going on recently:
WordPress 6.0.3 Security Release
WordPress released version 6.0.3 – a security release – in October. This release fixes a variety of security issues related to XSS. 6.1 will be released on November 1st, 2022 – likely already released by the time you're reading this. Make sure to backup, update, and test your WordPress sites!
Google's My Ad Center Releases New Features
Google's new "My Ad Center" area allows users to be in control of the ads that they see. They can even opt to follow specific brands. Privacy features are meant to allow you to turn down the frequency of select ads, which means if you see an ad you don't like – like the Taco Bell Pete Davidson ad – you can dial in its frequency. More features are being added to My Ad Center to allow control over sensitive topics.
The Ad That Annoyed The World
Speaking of the Taco Bell Pete Davidson ad, let's talk about how it has annoyed the world. Users have been complaining en masse – particularly on Reddit – about Taco Bell's new ads featuring Pete Davidson stuffing his face with one of their meals. This is typical normal ad fare, but for some reason, it seems the saturation of this annoying ad – with Davidson speaking through a mouth full of food, infuriating and disgusting many people alike – has caused users to revolt, install ad blockers, block certain accounts, and more. Taco Bell went all-in on Reddit it seems, and the users will surely remember.
TikTok Launches Profile Kit
A new feature, called Profile Kit, allows users to add up to 6 videos to other sites. Launching in partnership with LinkTree, this will allow users to further customize their link-in-bio homepages with TikTok content.
Instagram FINALLY Testing In App Scheduling
Only an entire lifetime in the making, Instagram is finally testing in app scheduling. While it might be too little too late for a lot of users, this will put them on course with many other social media platforms like Tumblr and Mastodon that have been allowing post scheduling since day 1. You can, of course, currently schedule Instagram posts from Meta Business Suite app, but given it's an entirely separate app, this knowledge is not as good as in-place tools. We hope they roll it out to everyone soon!