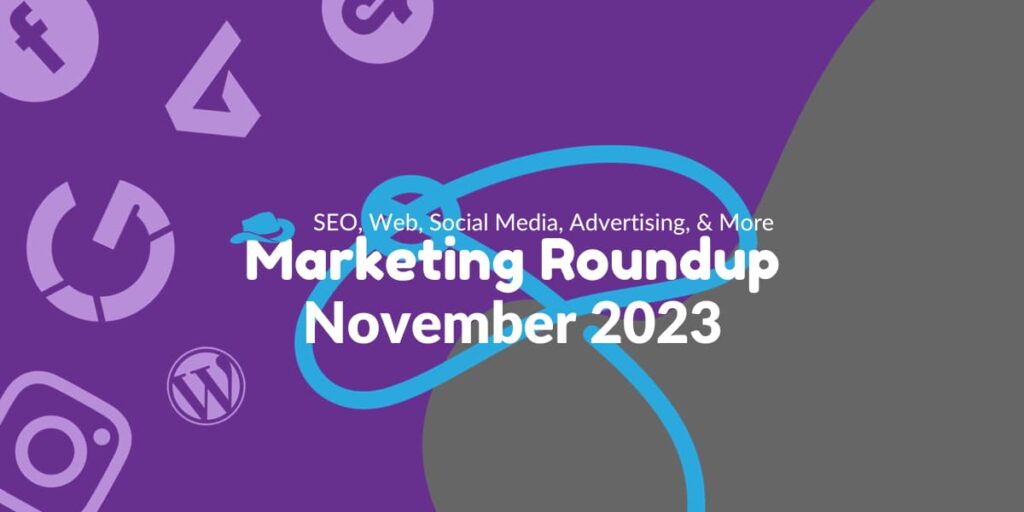 Posted by Remy Housley on November 6th, 2023
It's time for another roundup of what's new in digital marketing, social media, and more!
President Biden On Artificial Intelligence
President Biden signed an executive order about standards for development and use of AI. While the primary focus of the executive order is on privacy concerns, it may have impacts on digital marketing tools that use AI. We tend to think that overall this is a good thing, as marketing tools that rely on personal data may need to put more stringent protections in place—but it may also affect the marketing tools you currently use. This is mostly a "wait-and-see" update now, but good to have on the radar!
Meta rolls out ad-free, subscription-based plans for Facebook and Instagram in Europe
As the European Union has created much more stringent digital privacy protections than what are in place in the U.S., social media giants like Meta (which make most of their money from targeted advertising) have faced some struggles. Meta has just rolled out ad-free, subscription-based options for users in the EU and Switzerland. No news on if/when this will come to the US (our guess is that if it's making Meta money, they'll roll it out soon, and if not, they'll wait until legislation in the US makes it a requirement).
Supreme Court Considering a Social Media Case
Can your elected officials block you on social media? We'll find out soon. The Supreme Court is hearing a case to determine whether political officials (at least through their official social media accounts) can legally block constituents. There will also be four other cases related to internet and technology that the Supreme Court will hear this term. It's hard to say how these will impact a wider population until the judgements are announced, but there is a possibility that decisions will have far-reaching consequences. Stay tuned!
One Year Later, Twitter Continues to Slump
It's officially been one year since Twitter was purchased by Elon Musk for over $40 billion dollars. It's currently valued at less than half that … but what about other measurements? Well, pretty much every metric has gone downhill since Musk took over, from the all-important ad revenue, to active users, time on site, new signups, and more. None of the alternatives that have cropped up over the past year have presented a clear alternative, but there's still plenty of signs that Twitter (excuse me, X) isn't going to be a great place to spend your business's time or money anytime soon.
Google Completes the Switch to Mobile-First Indexing
This has been in progress for a long time, but Google has completed their transition to mobile-first indexing. What does this mean? When Google crawls the internet looking for websites to point people to, it's going to look at mobile sites before it looks at the desktop version. This makes a lot of sense—the majority of internet traffic occurs on mobile devices now. It also means that if your site has been running for years with a focus on the desktop version and your mobile version as an afterthought, you may be losing potential customers!
If your site is more than a few years old, there have been a lot of changes in the digital world that may warrant a site rebuild. The good news? We can help! All of our sites are designed to be accessible, responsive, and mobile-friendly. Contact us today to learn more about a site rebuild!