Posted by Aimee Cozza on May 16th, 2018
Sometimes, you start working on something and you start getting really into it and you have a problem with something about it. Then, because you're already knee deep in it, trying to resolve the issue becomes some big hassle and you just can't figure it out. So what do you do? You take to Google, you ask your friends, you try the knowledge base for that particular thing you're trying to troubleshoot. But then… You find out the answer was there right in your face all along.
We have a lot of clients that blog, and because of that, we have email marketing systems in place through MailChimp so they can keep in touch with their readers and potential sales opportunities. MailChimp, as you probably know since you're already here (I know, you want me to get to the good stuff already), is an easy-to-use and most of the time free email marketing company that can integrate right with some great features of your WordPress site such as Contact Forms (Particularly, subscribing people when they submit via Contact Form 7) and other methods. MailChimp also integrates with accounting software and sales software (like PayPal!) to subscribe people who have purchased items from you, making it an easy method of automating your email marketing.
One of the options we give our customers for their blogs is automated RSS email campaigns. With this, MailChimp will pull new blog posts and information directly from the WordPress site (whenever there's a new blog post added, might I add), and email it out to your loyal readers… No intervention required.
All of this sounds great, and setting it up is relatively easy utilizing your RSS feed URL and merge tags provided by MailChimp. But there's one big thing missing in the default MailChimp setup… And that is the major visual appeal and selling point to most email campaigns. The image.
*|RSSITEM:IMAGE|*
This is probably your first thought — and mine too — as MailChimp says you can use this to pull images out of your RSS feed. But… Half the time it doesn't work. Actually, none of the time I've used it by itself has it ever worked. I bet you know where I'm going with this.

Enter our hero. In this case, this plugin is called Featured Images in RSS & MailChimp Email. It's developed by 5 Star Plugins, and the basic version will get most things done. Install this, and then you can use the following code in your MailChimp campaign (this is the basic code that the Featured Images dev team suggests to start with) to begin your tinkering: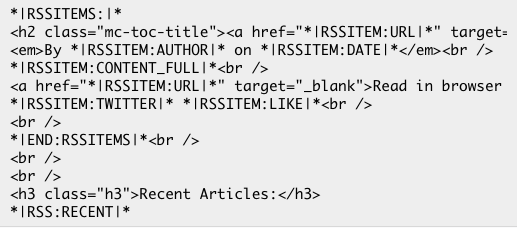 For the copy-pasteable version, visit the support topic.
Don't see *|RSSITEM:IMAGE|* in there? That's right, it's not, as the plugin doesn't support that. With that being said, I have had limited success with using the *|RSSITEM:IMAGE|* tag… Although it's very buggy. Anyway, you don't need it as the plugin will pull the featured image straight into the content.
Style it
Head on over to your Featured Images in RSS Feeds plugin and decide the size of your image and then how you want it to display. I usually just go with large and image centered above text. You might have a different preference.
Here's where I ran into a problem. No matter what I did, MailChimp would not make the image any smaller. It kept blowing up the image to full size and would not align it left or right. So, after bashing my head against a wall, trying custom CSS within the mailer, and everything else I could think of, I ended up finding the solution right in the setup of the actual MailChimp campaign:

Make sure you don't do like me — turn that off so it doesn't resize your images.
Need a solution without a plugin?
Check out our tutorial on how to set up custom RSS feeds that will feed the featured image without a plugin.
How did this work for you? Have you run into issues? Let us know in the comments below!