j. ellen Design, LLC is a local interior design firm based out of Manchester, NH. The owner, June, provides a full range of residential and commercial interior design services and is dedicated to working collaboratively with you, your architect, builder, or other trade professional to create beautiful spaces suited to your personality and individual style. j. ellen Design can provide expert guidance to help you through the overwhelming array of choices involved in a design project. Whether you need help with a small design project–like picking the right color to paint a room–or a full house or business design, j. ellen Design, LLC is there to help.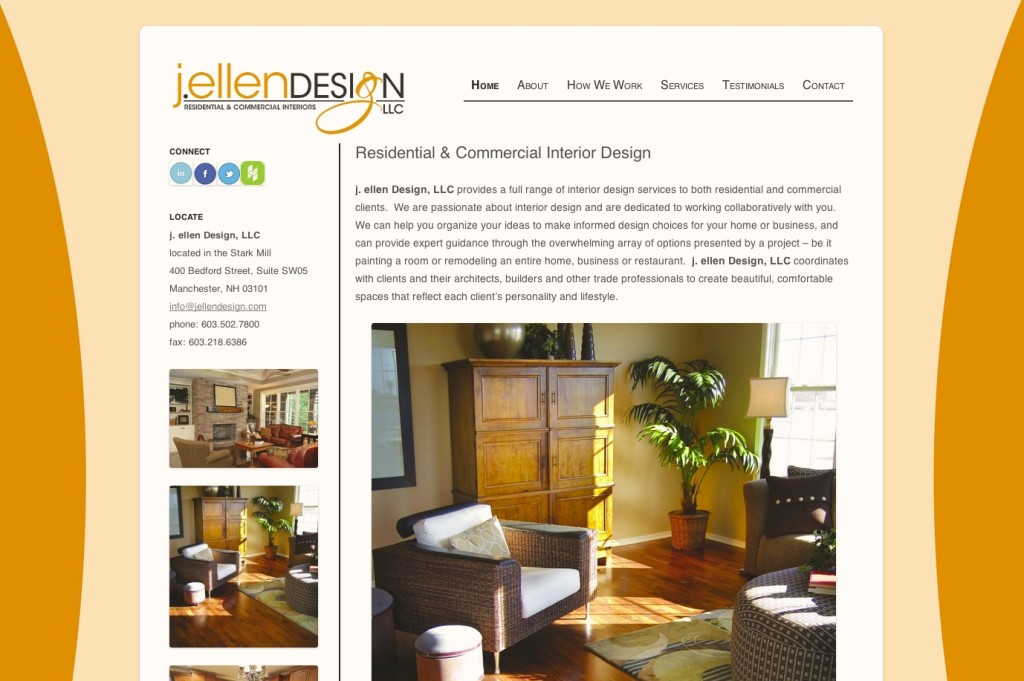 I know June Trisciani, the owner of j. ellen Design, LLC through my local business networking group. Soon after we met, we began discussing improvements June wanted to make to her website. We redesigned June's website to match the look of her excellent logo and business cards (created by our good friend Susan at Sandpiper Artisans), and optimized the content on June's site so that she is more easily found in the search engines. We've also helped June to develop her online presence in other ways, including social media.
June is fabulous interior designer and a genuinely friendly person. What better way to showcase this than social media? We've set up a several of June's social media profiles, got her started in email marketing, and aided her in launching her new blog. June is truly a pleasure to work with, and has even introduced us to new clients! She's also the lovely writer of our best testimonial ever. Thanks, June!