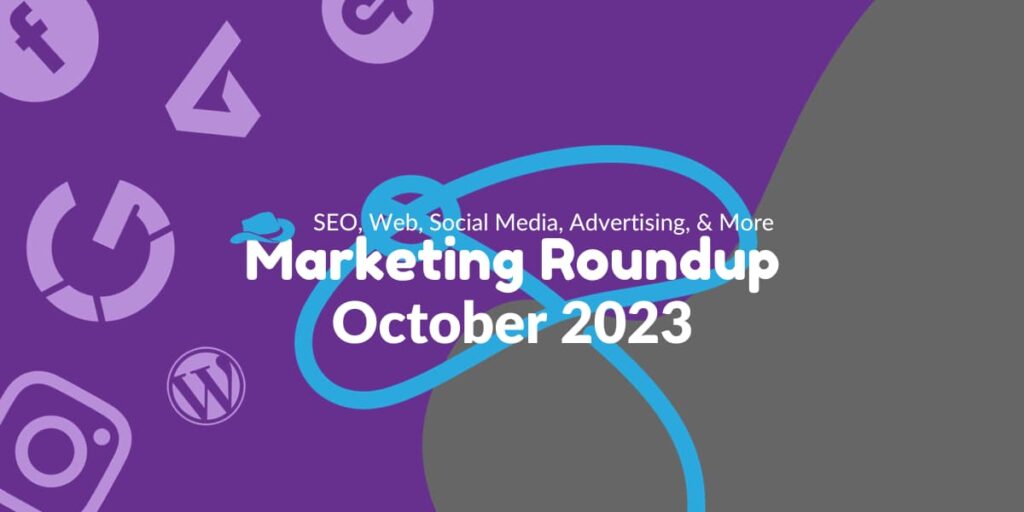 Posted by Aimee Cozza on October 4th, 2023
It's time for another monthly roundup of marketing news, social media news, and more.
Meta responds to AI "opt-out"
Last month, users took matters into their own hands by utilizing Facebook's "opt-out" method – a form you fill out to request your information and material not be used in their generative AI. Well, it turns out that Meta either didn't intend the amount of people to respond that had, or they had intended something entirely different with this form than to give an opt out process to users. Users were hit with this reply mid-September:
"Thank you for contacting us.

Based on the information provided, we were unable to process your request. To help us process your request, please provide examples or screenshots that show evidence of your personal information (for example, your name, address or phone number) in responses from Meta's generative AI models. Once you provide this evidence, we would be happy to investigate further."

Meta Support
This incomplete, vague response can be taken two ways: Meta intends to put the onus on its users to prove that their information has been used in their generative AI (which first of all… How? There are no tools provided like Spawning's HaveIBeenTrained which utilizes data sets that can be searched via keyword or image), or Meta sent out a garbled mess of a reply asking users to prove their identity, both of which are bad takes for their userbase – many of which are artists already impacted by generative AI and non-consensual AI training utilizing their works. We're keeping an eye on it to see how this plays out.
Bluesky Social hits 1 million users
No, we don't have any invites. But Bluesky social has hit 1 million active users. As roll-out continues to drip-drip-drip for the average user, you're sure to see more users coming in and using it like Twitter. If you can secure an invite, we suggest doing so not only so you can username squat, but so you can also start building your audience early.
A fee for everyone to use Twitter?
Maybe. Potentially. Twitter's floating the idea of paywalling the whole place which honestly, would likely be the absolute last straw in the drawn out, overblown death of a once active, respectable social media sphere. We'd be breaking out the popcorn for that one.
TikTok set to label AI-generated content
TikTok has introduced new tools to generate AI-generated content as well as filters. This is a good step forward to either avoiding AI-generated content or at the very least being knowledgeable about your use of it. This is, of course, the bare minimum for many LLM opponents. Still, even a small step can be appreciated and we hope Meta and other social media platforms in the spotlight take a firm stance when it comes to labeling clearly AI generated content.
Connect your WordPress blog to the Fediverse
In the interest of perpetuating what users might actually want to see on social media, Automattic acquired the ActivityPub plug-in in March. What this means is that you can now easily allow Fediverse users (like people using popular service Mastodon) to follow your WordPress blog. Soon you'll be able to do the same with Tumblr, BlueSky, and others. Just another great reason why you should be using WordPress!