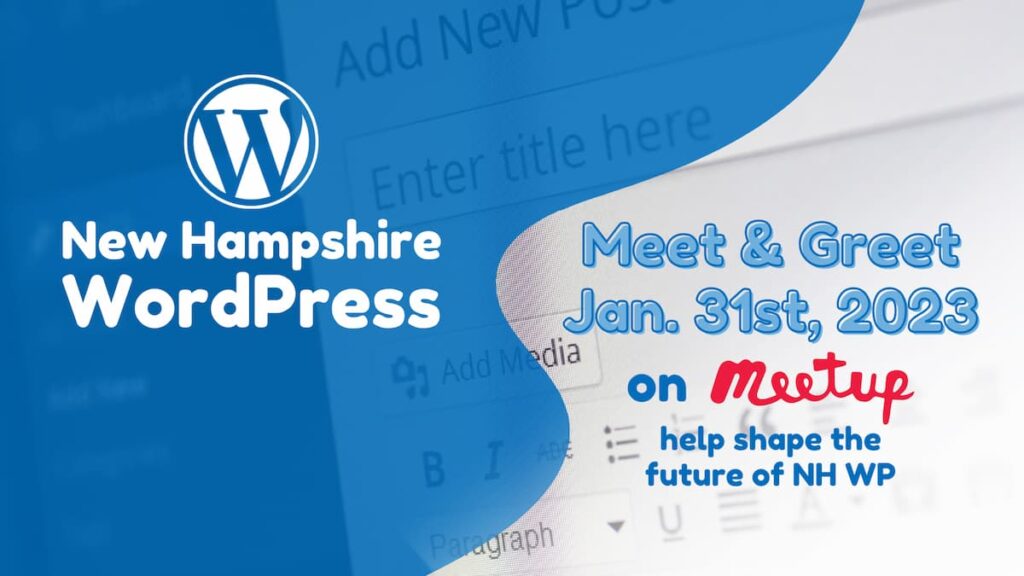 Posted by Aimee Cozza on January 13th, 2023
Help shape the future of the New Hampshire WordPress group by stopping by and giving your opinions on what you'd like to see for future events. This first event will be virtually held on Google Meet (RSVP on Meetup) and is an open invitation to current, former, and new New Hampshire WordPress members.
What is NH WordPress?
NH WordPress is a Meetup group that occasionally holds virtual and in-person meetings where you can grow your knowledge and meet more industry professionals. NH WP has historically covered topics about new WP version rollouts, security, features, and much much more. We welcome you to join! Joining is free and you can attend any event you would like to attend. Joining does not mean you have to attend every event.
Who is NH WordPress for?
NH WordPress is an all-inclusive group for experts and beginners alike. Topics explored will often cover beginner basics as well as advanced items. Join and see what we'll have in store for you!
When is the kickoff meeting?
You can join the kickoff meeting virtually on January 31st, 2023 at 5:30 PM. Join from anywhere using your favorite device.
Please RSVP on Meetup for the call so we know how many people to plan for!