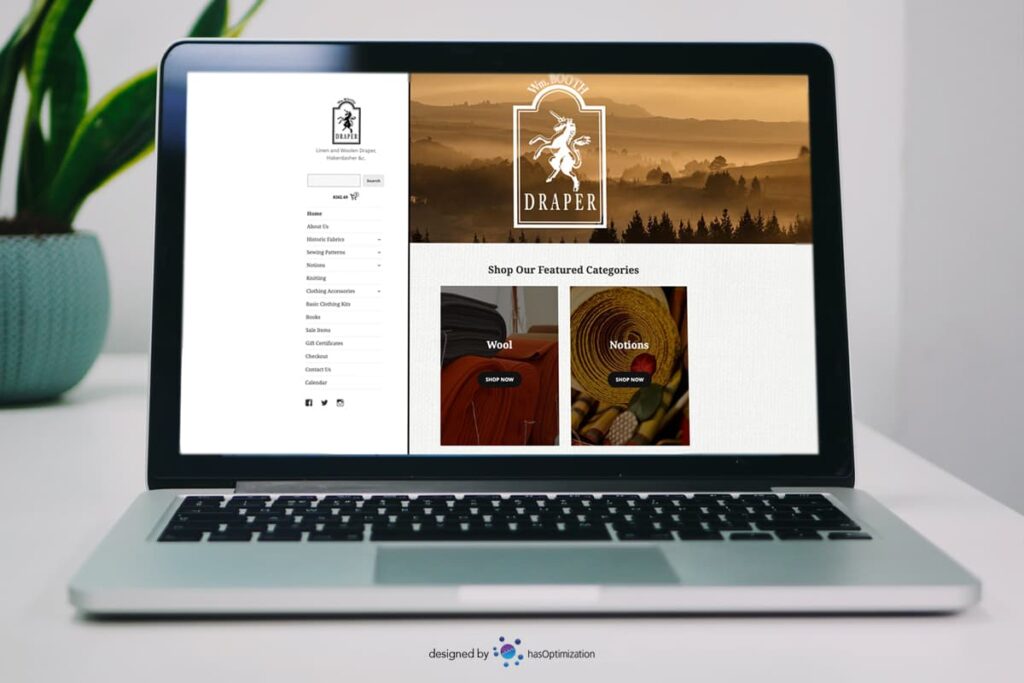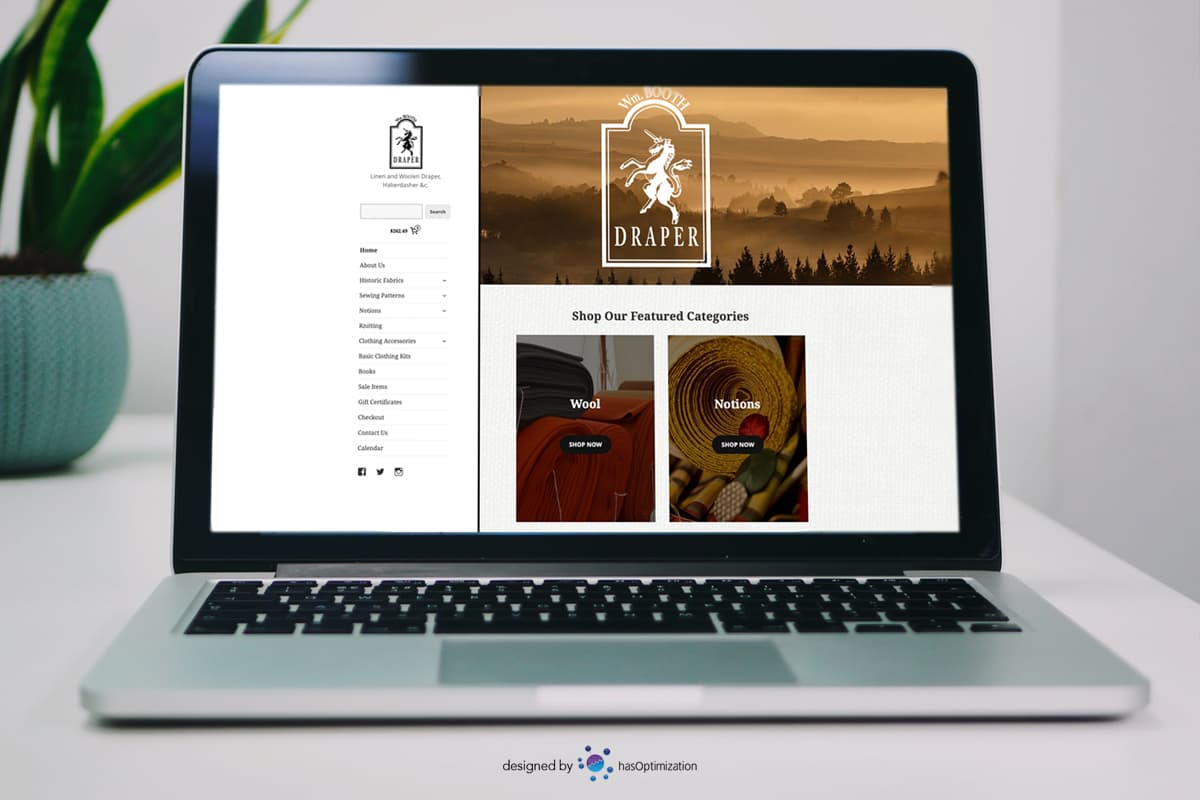 Posted by Aimee Cozza on December 30th, 2022
hasOptimization is proud to announce the launch of a new ecommerce website for historical fabric supplier Wm. Booth, Draper.
You may remember our client Tentsmiths, whose original website we compared to the historical internet pillar Chessex: an ancient ecommerce stand-in website wherein a business functioned on the pure calibur of their talent, craftsmanship, and top notch service alone. There are many businesses just like the previous iteration of Tentsmiths that are losing out on easy-to-grab ecommerce revenue (particularly from new customers) by failing to upgrade their user experience for the modern web.
Like Tentsmiths, Wm. Booth, Draper had an outdated website in both looks and functionality. With a little help from the expertise of hasOptimization's team, we brought Wm. Booth, Draper into 2022 with a fresh new ecommerce experience, as well as a new look and feel.
Referred to us by Tentsmiths, Wm. Booth, Draper is a historical fabric supplier who sells historically accurate fabrics, patterns, buttons, notions, and more. Like Tentsmiths, Wm. Booth, Draper has a devoted community of return customers. Previously, the ecommerce portion of Wm. Booth's site was operated by Zen Cart – a starter ecommerce software powered by vBulletin, last updated in mid 2020. While we perused the old site, which was a solution put together by old-web iframes and Zen Cart, we oftentimes wondered how sales were even being made. When the hasOptimization team attempted to add items to the cart or trial the purchasing process, the browser would freeze up, things would not be clickable, items would go missing, and other errors. The purchasers that supported Wm. Booth knew the very, very specific order of where to click and how to make a purchase, while potential new customers would likely be discouraged from ordering without extensive trust in the business from word-of-mouth. Major changes to an e-commerce site can be overwhelming to any business, but we knew that any changes to the platform would be an improvement – and hopefully a much welcomed one by his site visitors.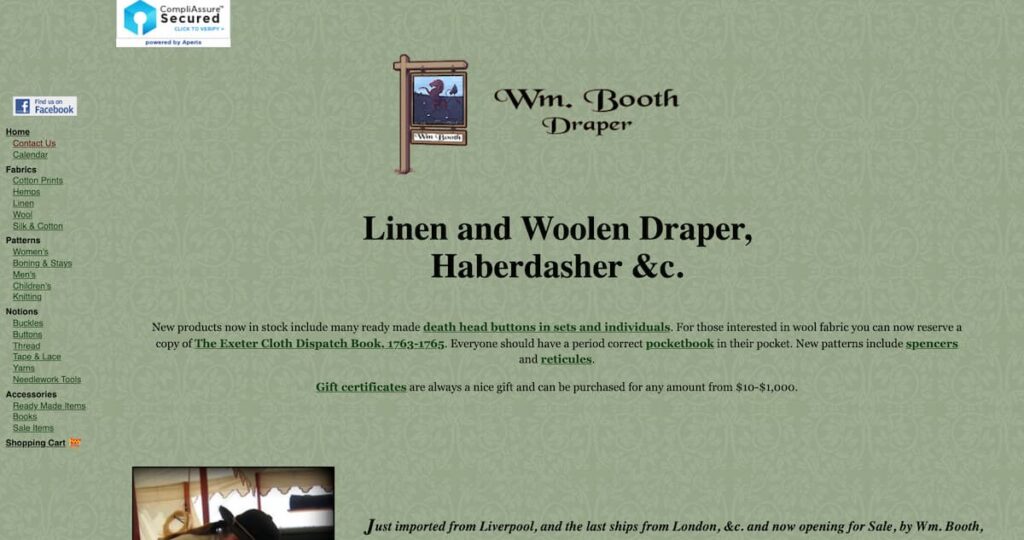 His usual customers were in for a big surprise with the new website!
Much of the design progressed without reference to the older site. Assets for the previous logo had gone missing, and we could unfortunately not make use of the low-resolution copy used on the old site, but there was still hope: they have a hand-carved sign of a unicorn (in the style of many 18th century shops; the business is often called "Wm. Booth, Draper, at the sign of the unicorn") that they treasure. We were able to convert the unicorn sign into a black-and-white rendering, which we could then use as a logo and favicon for the site, further informing our design choices. The client chose some fabrics with good textures on them for photos, and other visually appealing images to use for backgrounds and clickable areas, which will help visitors immediately understand what Wm. Booth sells and what kind of products they can expect right from the front page.
Using the powerful content management system WordPress, along with its equally powerful ecommerce platform Woocommerce, we built Wm. Booth, Draper a clean, crisp, modern ecommerce experience. Adding items to your cart, navigating the site, and checking out is now so much simpler – even the average person who has never purchased from Wm. Booth can figure out how to complete a purchase, whether they are on phone, tablet, or desktop. What this means for Wm. Booth is increased sales and increased profits. We saw an over 200% increase in search impressions about two weeks after launch, because of course the new website comes loaded with SEO basics! We call that a major win!
In addition to upgrading the customer experience, the new platform means there's lots of room for expansion. They can offer gift cards that can be redeemed online, for example, or even take custom orders. They can implement an events calendar to show people which reenactments and events they will be visiting throughout the year. WooCommerce can be easily integrated in a manner to list their items on Google Shopping. They can even start a mailing list which automatically emails when new products are added. There are lots of possibilities for more growth with the Woocommerce system, giving this website a long life ahead while the business continues to grow!
Make sure to take a look at the new Wm. Booth, Draper website at wmboothdraper.com and join us in saying congratulations on your new website!