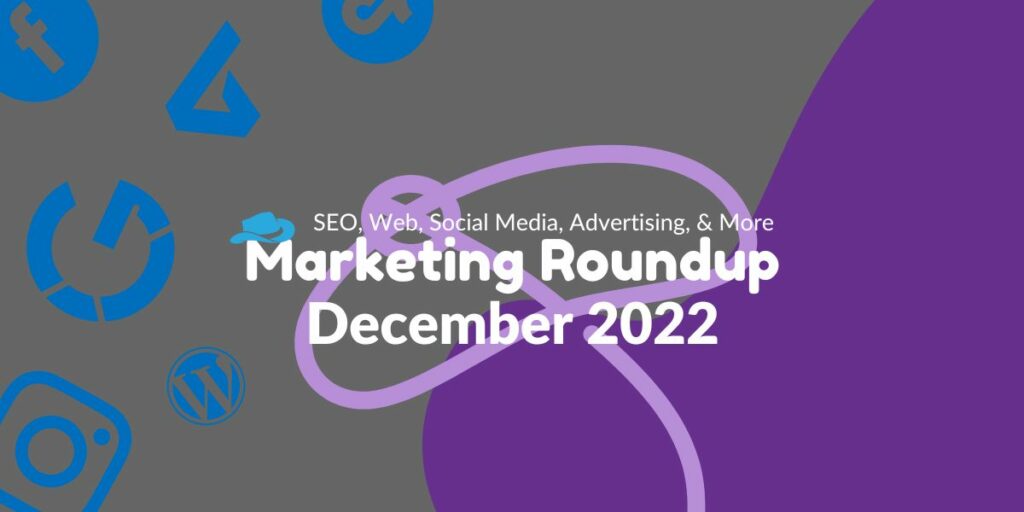 Posted by Remy Housley on December 5th, 2022
Cyber Monday is a sign that the year is almost over, but there's still a few more weeks of holiday season, followed by planning for 2023. Check out our roundup of some recent news in the digital marketing & social media worlds:
LinkedIn Rolled out Three New Features
As they expand their role in B2B markets in particular, LinkedIn rolled out a new SEO-friendly newsletter process, as well as product pages and competitor analytics.
New Survey on Business Reviews
A new survey commissioned by Yelp shows consumer preferences and opinions about reading business reviews. One key takeaway? As many as 85% of consumers trust written reviews over star rating only—so make sure to encourage your happy customers to write reviews!
Google Publishes Guide to Ranking Systems
Search Engines use a variety of systems to rank search results, and the lists are constantly in flux. Last month, Google published a guide of current and retired ranking systems, and clarified some language used by Google to distinguish between one-time changes and consistent processes.
YouTube Adds New Features
YouTube is expanding its features for community posts by including in-app photo editing tools. In addition, they are experimenting with a new quiz feature, which is expected to roll out more widely soon.
TikTok Improves Audience Insights
TikTok can be a difficult area for businesses to use effectively, and part of that is due to most decision-makers not understanding how (mostly Gen Z) users engage with content on the app. In an effort to mitigate this, TikTok has rolled out new audience insights for businesses, providing much more detail.
Overwhelmed by all these changes? hasOptimization can help take care of your digital marketing needs without you having to worry! Contact us to learn more about our available services and our recommendations for you and your business.