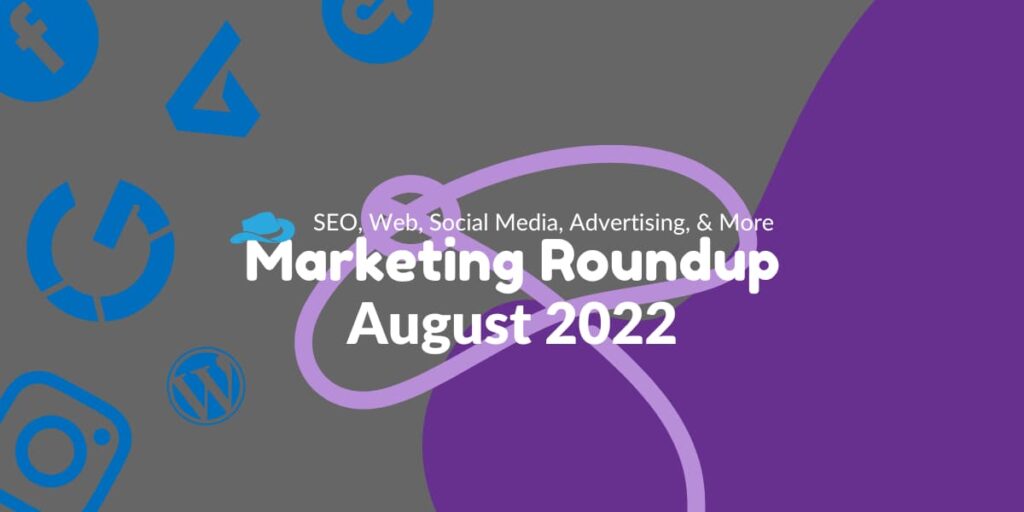 Posted by Remy Housley on August 2nd, 2022
It's time for our monthly marketing news roundup, where we highlight some recent news in the world of digital marketing, social media marketing, SEO, and more! As we entered Q3, lots of apps made updates to their shopping and advertising features. Take a look at some of the highlights:
TikTok Shelves Shopping Plans
While TikTok's QVC-style shopping options have proven lucrative in China, the app announced that they were shelving plans to bring shopping features to the US. An initial start to a Europe and US rollout in the UK missed sales targets, and the expansion has been put on indefinite pause.
Pinterest Adding Shopping Features
On the other side of the internet, Pinterest has added shopping features. With regular Pinterest users engaging with shopping channels more than 200% more frequently from 2020 to 2021, the app hopes to build on this engagement and is offering tools for businesses to engage more seamlessly with their customers.
WordPress 6.0.1 Released
A major WordPress update can cause a lot of stress to business owners and developers alike! The newest WordPress update included a wide range of bug fixes, so if you were waiting to update to WordPress 6, now might be a great time!
Instagram Rolling Out Subscriptions Features

While many Instagram users continue to chafe against the updates made by the app in recent months, Instagram is rolling out Subscriptions features for businesses and creators. Currently this is an expansion to beta testing that began earlier this year, but we expect news on wider rollouts in the months ahead.
Google My Business No Longer On Mobile
If you're accustomed to making updates to your Google business profile while in line for a coffee or waiting for a flight, beware: Google My Business is no longer supporting account changes via mobile app. You now need to make changes from the web portal—if you are often on the road, you may want to consider a digital marketing team that can help you with updates to your reputation management systems on your behalf. (Hey, we do that at hasOptimization!)
Want to learn more about how we can help you take your digital marketing to the next level? Contact us today!