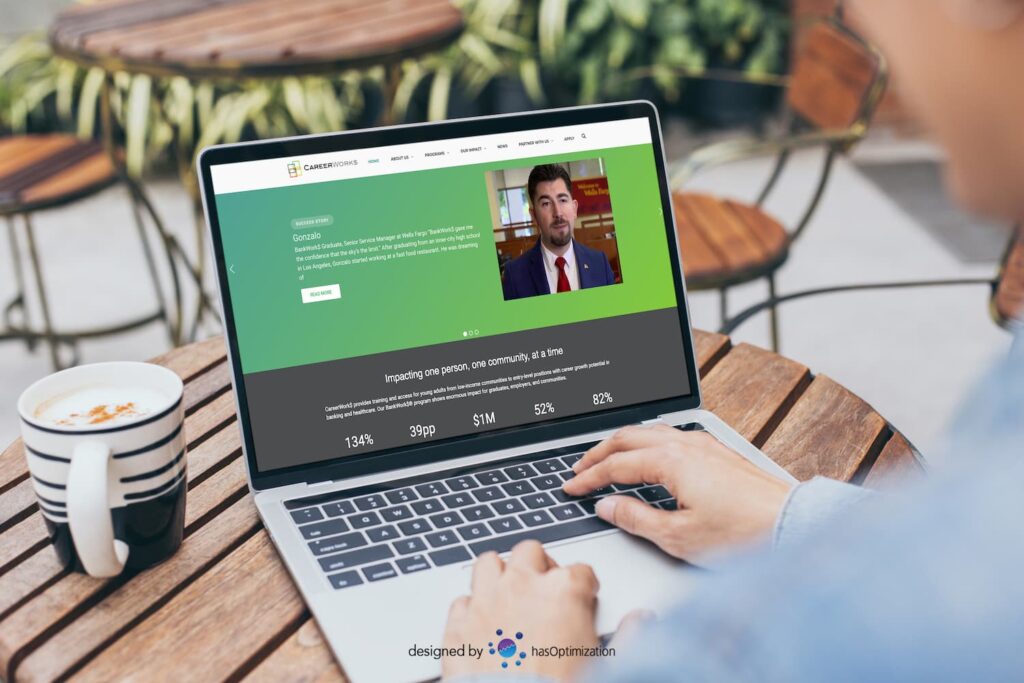 Posted by Remy Housley on June 20th, 2022
hasOptimization is proud to announce the launch of a new website for CareerWork$. CareerWork$ is a non-profit organization that helps provide young people from under-resourced communities with training for careers in banking, medical, and other fields. Previously, their content was spread across several program websites. This semi-custom website replaced multiple separate websites with one centralized online location, while maintaining the brand and style of the previous sites.
A Central Location for all CareerWork$ Programs
CareerWork$ originated as a project of the Sheri and Les Biller Family Foundation. As a result, its main site was housed on the Biller Family Foundation website, and as individual programs were launched, they were created on separate sites. When the foundation launched CareerWork$ as a 501(c)3 public charity, the organization needed its own website on its own domain.
This meant that CareerWork$ needed its own home domain, and that programs like BankWork$ could be combined with their parent organization on the new page.
Maintaining Cohesive Design and Aesthetic on a New Site
A common challenge of creating a new site with an organization that already has strong branding is maintaining design consistency while also improving responsiveness and accessibility. For example, we wanted to create information forms that allowed potential stakeholders to reach out, without overwhelming the CareerWork$ team with unnecessary information. We worked together to develop a single form that allows employer partners, training partners, and donors to reach out to the team while minimizing confusion and overlapping information.
A Space to Develop New Content & Strategic Focus
Bringing several smaller sights together allowed the team at CareerWork$ to rethink the goals of their website to ensure that it was supporting the needs of their organization. We began with a new wireframe that reorganized the existing content, and identified places where new content was needed to help make a cohesive whole.
For CareerWork$, this also allowed the organization to expand some of its broader mission-related content, such as information about their core values, their team, and their organizational structures. In addition, we were also able to bring together information about their funding partners and training partners, to help prospective trainees and prospective donors learn more about what the organization does.
We're excited to have helped CareerWork$ launch this new endeavor, and we are excited to see what they do in the future! We encourage you to check out their website and the services they offer at careerworks.org.
Looking for design, web development, SEO, or digital marketing strategy for your business or organization? At hasOptimization, we understand the internet so you don't have to. Contact us to learn more!