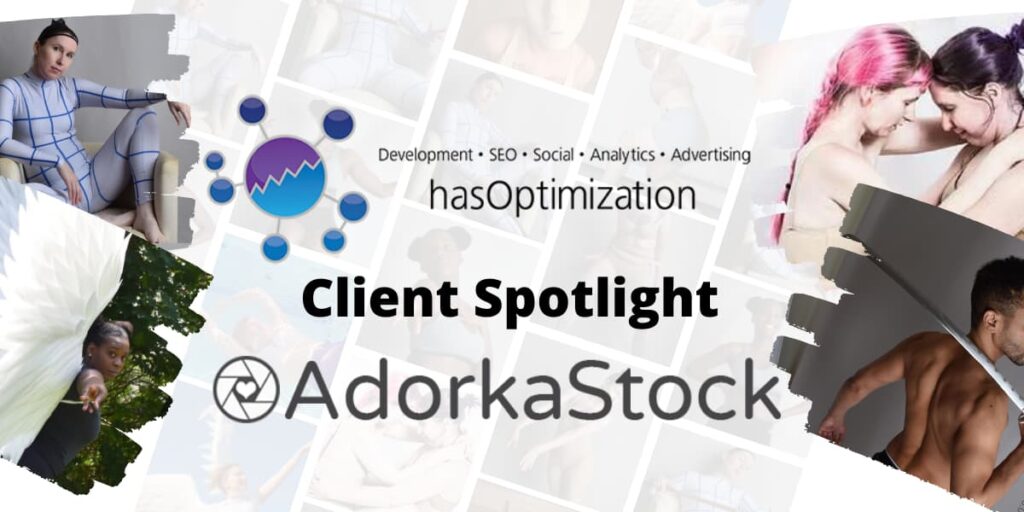 Posted by Aimee Cozza on December 13th, 2021
Here at hasOptimization, we love our clients, and we want you to love our clients as much as we do. We want to spread the word about our amazing clients. Heck, you may even find your next business to work with in our client spotlights!
This time in our Client Spotlights, we're focusing on AdorkaStock.
AdorkaStock, formerly known as SenshiStock, is a staple of the internet for many artists. Starting in the early 2000s, Sarah, the face behind AdorkaStock, has been taking photos of herself and posting them publicly for other artists to use. From there, AdorkaStock has branched out to include a diverse set of models of all kinds, which makes AdorkaStock's photos useful to everyone. On top of this, AdorkaStock's photos are PG – meaning they're all clothed, mainly non-violent, and can be used easily in an academic setting, which makes AdorkaStock the perfect go-to for middle school and high school art teachers looking to teach gesture and anatomy without getting the giggles from their students over the nude human body.
What we do for AdorkaStock
We work with AdorkaStock to manage social media, as well as guide in marketing opportunities as they arise.
Social Media Management
When you're running social media for an account with many thousands of followers, it can be hard to keep up, and that's where hasOptimization has become AdorkaStock's clone. We regularly interact with artists, followers, and more as AdorkaStock, helping Sarah answer questions in a timely manner, as well as promoting new materials, new marketing opportunities, and more. Additionally, we have found success in looking at other, lesser known social media channels, allowing us to expand outreach and create brand awareness that just keeps paying off endlessly.
Why you should work with AdorkaStock
Sarah, the face behind AdorkaStock, is a force to be reckoned with. It is rare that, in the marketing business, that you encounter business owners that are so deeply interested in making their business work on social media as much as possible. Sarah is fantastically open to trying new ideas, heeding marketing warnings and advice, and has an amazing marketable product for anyone who is trying to create art, whether it's for animation, illustration, 3D, or something else.
Additionally, we wholeheartedly support Sarah's mission to bring diversity to stock photos and reference photos. Sarah employs models of various body builds, skin tones, and gender identities, including those with disabilities (who may or may not use mobility aids) which stands in line with our mission statement of inclusivity. Go Sarah!
How to Support AdorkaStock
If you are interested in supporting Sarah's mission of including diverse bodies in her art, join her Patreon for as little as $1 a month. The more patrons Sarah has, the more diverse people she can pay to create diversity in artistic stock photo references.
You can also support Sarah by purchasing one (or more) of the AdorkaStock pose packs or products on the AdorkaStock gumroad. Gumroad uses a "fair pricing" model, which allows you to pay a minimum for a product, but specify what you think is fair. In effect, this allows you to give Sarah a tip!
Where to find AdorkaStock
AdorkaStock can be found and followed on just about every social media platform. Check her out on Twitter, Facebook, Instagram, Imgur, Tumblr, TikTok, and Pinterest.