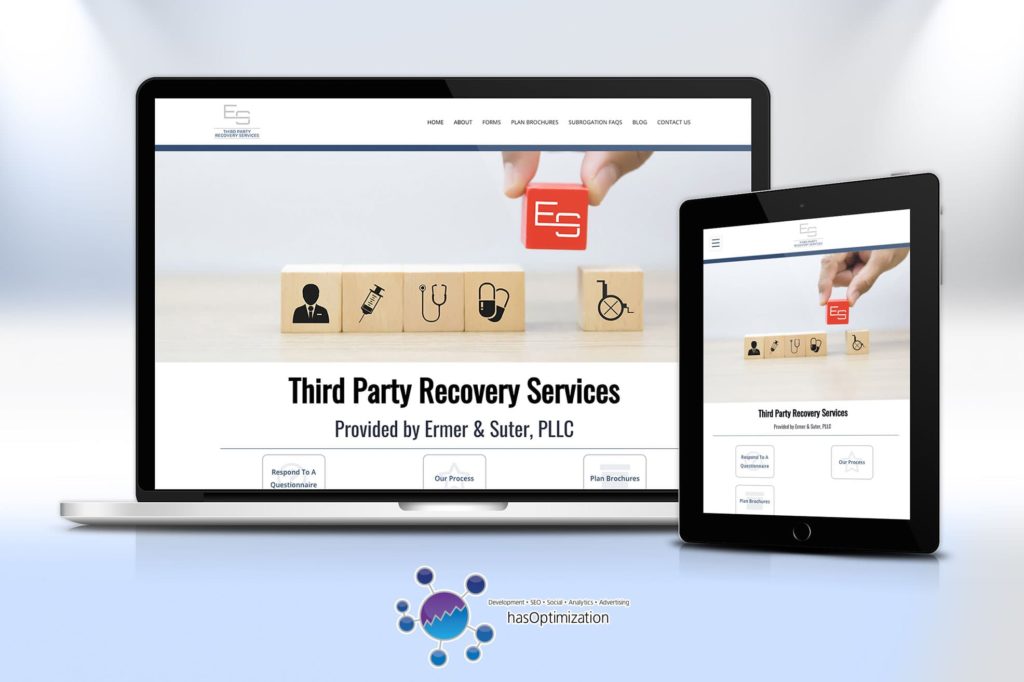 Posted by Aimee Cozza on January 24th, 2020
hasOptimization is proud to announce the launch of two new sites for Washington DC based law firm Ermer & Suter, PLLC. This law firm focuses on federal employment and benefit matters, and needed two very similar websites to suit. Additionally, the group was going through a rebrand when taking on an additional partner, so some logo refreshes were in order!
Ermer & Suter Third Party Recovery Services
The first website we were tasked to complete was TPRS, or Third Party Recovery Services. The firm required password protected pages, along with some more modern and clean look and feel to their old website. We knew this would easily be a job for WordPress!
We gave the site a good polish and some great bones, along with forms that were formatted in such a way to receiving excitement in the form of multiple exclamation points — making life easier for everyone — and came up with something fresh and modern for the law firm.
Ermer & Suter, PLLC
The second website utilized the same bones and theming of the first website, along with the same color scheme and some differences. We imported attorney David Ermer's long-time running Blogger FEHBlog (2,217 posts!) into the new website's WordPress CMS, allowing the law firm to now convert traffic to Mr. Ermer's blog into possible leads, generating further interest in their law firm as an industry leader. We also set up the blog so readers can subscribe via email.
Lastly, both websites underwent rigorous accessibility testing by our new accessibility tester Lindsay to ensure that visually impaired individuals could access the same content without jumping through hoops.
Do you need a website upgrade for 2020? Contact us today to get started!