Posted by Aimee Cozza on September 18th, 2019
hasOptimization is proud to announce the launch of a new website for Gonic, NH historically accurate period tent fabricator Tentsmiths. Alena and Stephen Shellenbean recently bought out Tentsmiths, and wanted to give the noticeably dated and confusing old website a total revamp, allowing for a more streamlined ability to not only take orders from customers, but to also answer customer questions and allow for more clarity with items, images, and pricing.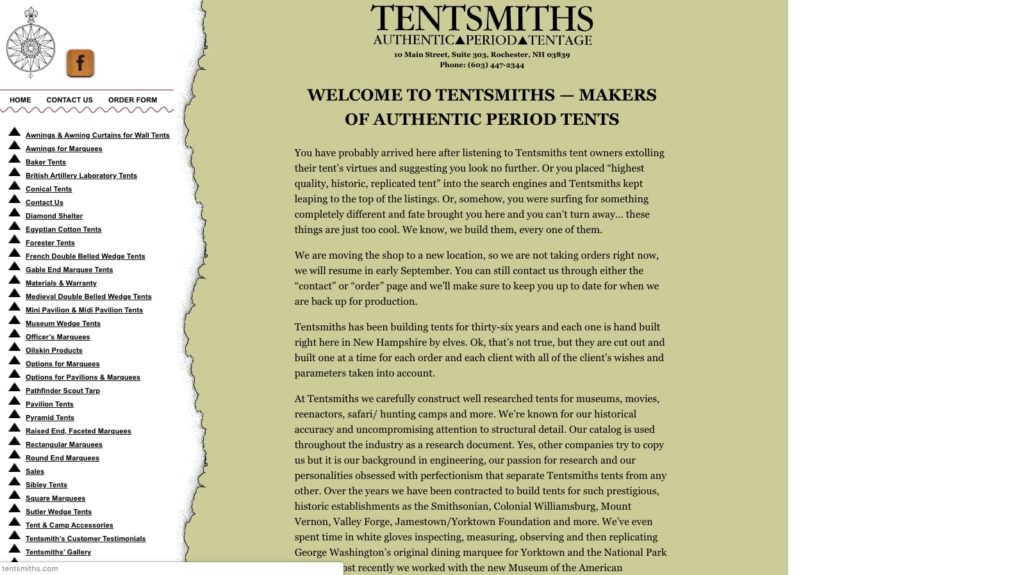 There were a lot of hurdles when it came to rebuilding this site. The first was that Tentsmiths has a massive catalogue of products, which on the old website is not organized in any particular order. We were finding products linked within products linked within products, seemingly without rhyme or reason. You would never know it, but the old website was actually run on the WordPress CMS! However, it was a very old version of the software, non-responsive for mobile, and suffering from years of 'edits without overhaul'–sort of like a pair of pants that's become mostly patches. A fresh WordPress installation and a fresh new theme were a great start for this aging site.
Credit where it's due! Alena was a trooper and went through weeks of sloughing through their current available catalogue, developing SKUs, and importing spreadsheet after spreadsheet into the ecommerce system to make sure we had the most up-to-date and accurate product information. This collaboration helped the site launch on an extremely short timeline, while reducing the costs for these new business owners.
The Tentsmiths crew got a lot of great new features with their new site. Along with a brand new updated logo that can go just about anywhere (created by our fantastic partner Susan at BECreative), there were plenty of site upgrades to help make things a bit more streamlined. We got them onto an ecommerce platform which allows for the display of prices, images, and details in a more "shop" friendly way. With an ecommerce platform, our shopkeepers can keep track of inventory, product changes, issue coupons, track orders, and more. Though Tentsmiths was not collecting payment through the website at time of launch, or calculating shipping costs automatically, we expect these features will roll out to Tentsmiths in the near future!
Additionally, the amount of extra organization that was lent to this site by way of categories and tags has dramatically increased the ease of finding products. Customers can also now use the search feature to find exactly what they want, and are offered related products to make sure they're getting everything they need the first time.
We also tuned up the site's SEO content (as well as structure) to help Tentsmiths rank for terms they may not have been ranking for in the past. We also installed a necessary security certificate to allow browsers to report Tentsmiths as "secure" when a customer is shopping. On top of this, Tentsmiths now has a dedicated area to blog about new things and events happening in the shop.
Some additional benefits to the Tentsmiths ecommerce system not yet being utilized, though we do expect to see roll out soon:
Integration with an email marketing system of choice, allowing for automatic email notifications of new items, adjusted items, or other items based on customer purchasing patterns
Easy integration with shopping platforms like Google Marketplace, which will allow Tentsmiths' products to appear right at the top of Google search
All in all, this was a huge upgrade for Tentsmiths and their customers. We hope to continue helping Tentsmiths improve their customer relations via additional automation, which will help increase their sales! Check out their new website by clicking through to Tentsmiths.com
Need an ecommerce site of your very own built? Contact us today!