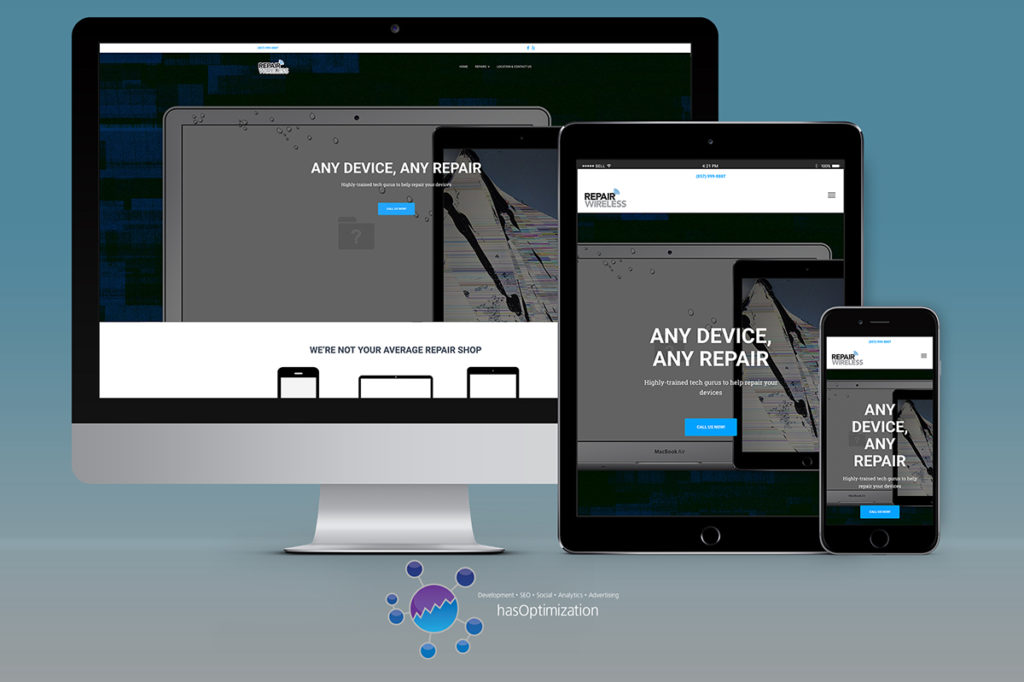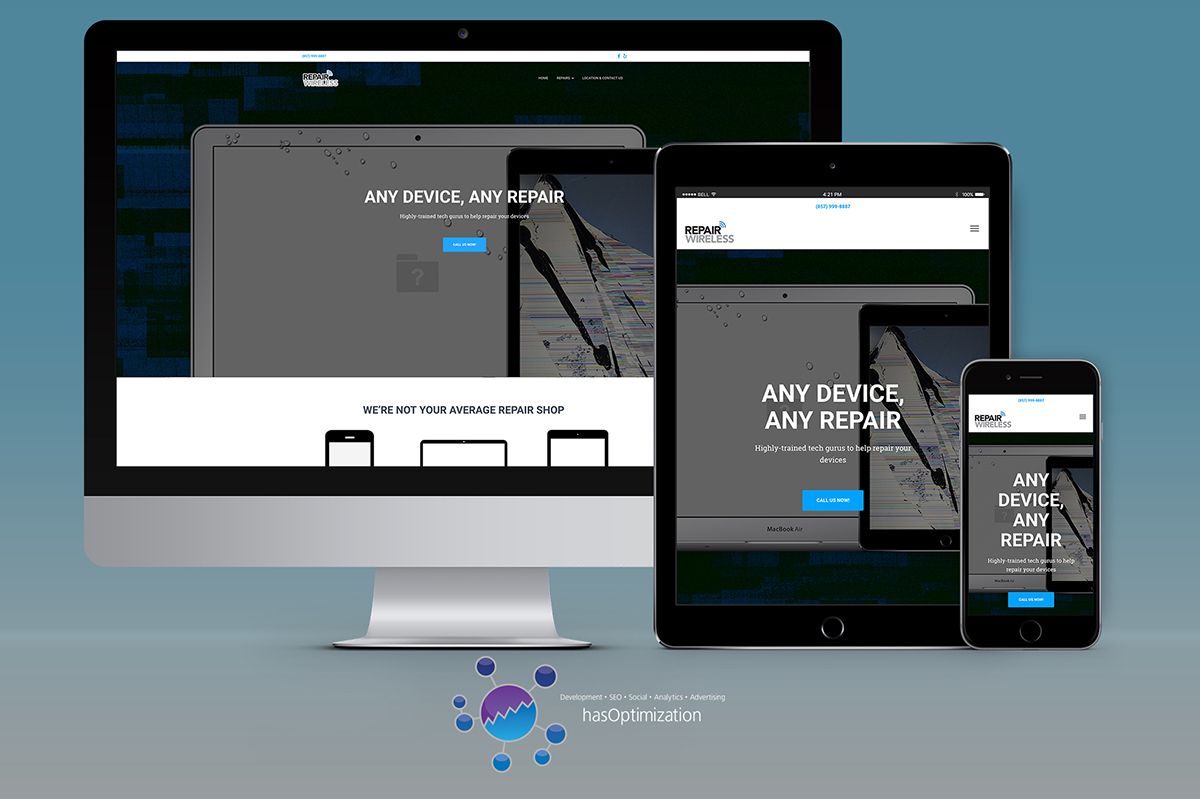 Posted by Aimee Cozza on October 19th, 2018
hasOptimization is proud to announce the launch of a new site redesign for Repair Wireless, an all-things-tech repair shop in Brockton, MA.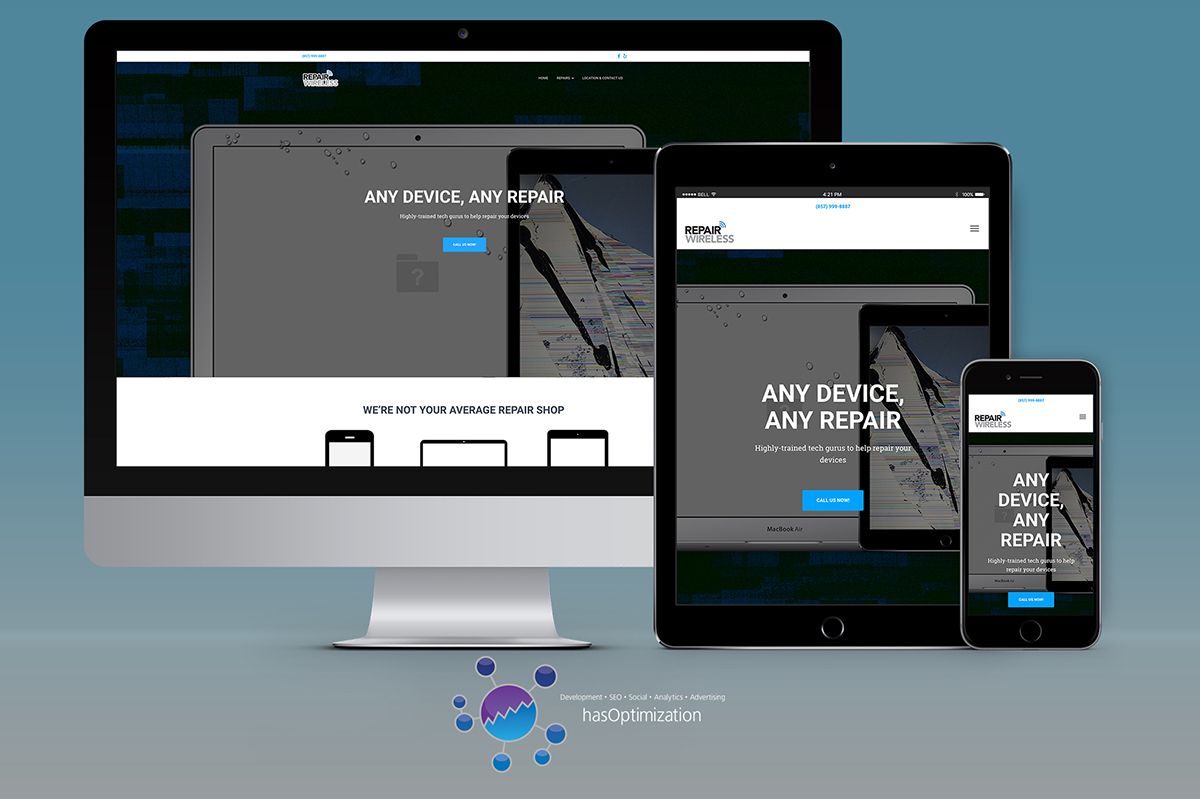 But wait, you might be saying, doesn't this site look just like another site that was recently completed? You'd be correct! The owner of this repair shop also owns Tech Center Danvers, which we recently completed a site redesign for. The owner requested a visually similar site, with some changes. We were happy to oblige!
Repair Wireless underwent a logo redesign which differentiates it from its sibling, Tech Center Danvers. Our affiliate designer Susan Englert did a fantastic job on their new logo, giving them a sleek yet tech-y logo: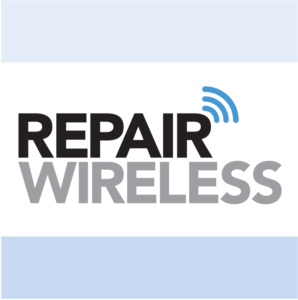 In tandem, we created all new page content for their Brockton, MA location, swapped out the colors to match their new blue color scheme, all while keeping consistent within the theme that we originally laid out for Tech Center Danvers.
Before Repair Wireless was utilizing this page, they were using a single page with outdated information delivered in the form of images on SquareSpace; you can see more of an example of what kind of page they had by visiting the blog post about Tech Center Danvers' site launch. The business owner stated that he couldn't get the look and feel he wanted within SquareSpace, so he relied upon images to get his information across. While this is fine for anyone who can view images, it's bad for a few other reasons. Screen readers cannot parse the images (people who are blind or sight impaired rely upon screen readers), nor can Google or any other web crawling bot. This meant that they were inadvertently not allowing Google to crawl their site. On top of that, one-page sites are notoriously SEO negative, so we were glad to break out this business owner's site into more than one page with options for even more expansion in the future.
Now, with their new site, we are able to deliver all of the information Google (or a screen reader!) could want: all the basics, and then some! You can visit their live website by clicking here.