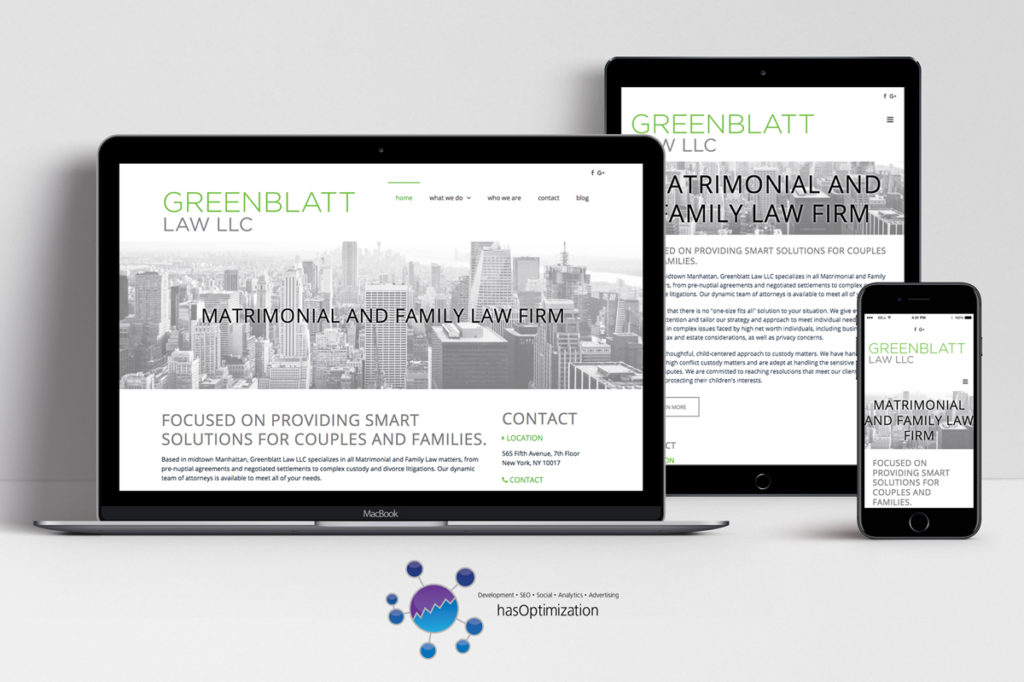 Posted by Aimee Cozza on March 7th, 2018
hasOptimization is proud to announce the launch of a new site for Greenblatt Law, LLC, a family, matrimonial, and divorce attorney in New York City.
This site was a very interesting ride. Our client, Elysa Greenblatt, was running a SquareSpace website. While we have no problem with clients making DIY websites, SquareSpace has some issues, especially in regards to SEO, site speed, and other problems. Blogging is not easy on SquareSpace, and Elysa wanted to start doing some blogging. Elysa had done an excellent job creating a slick, modern web presence for herself, however SquareSpace, with its known issues, also can be expensive. We noticed Elysa's SquareSpace was up for renewal in only a couple of months, so we posed the question to her: do you want to continue with SquareSpace, or do you want to transfer out with some big benefits?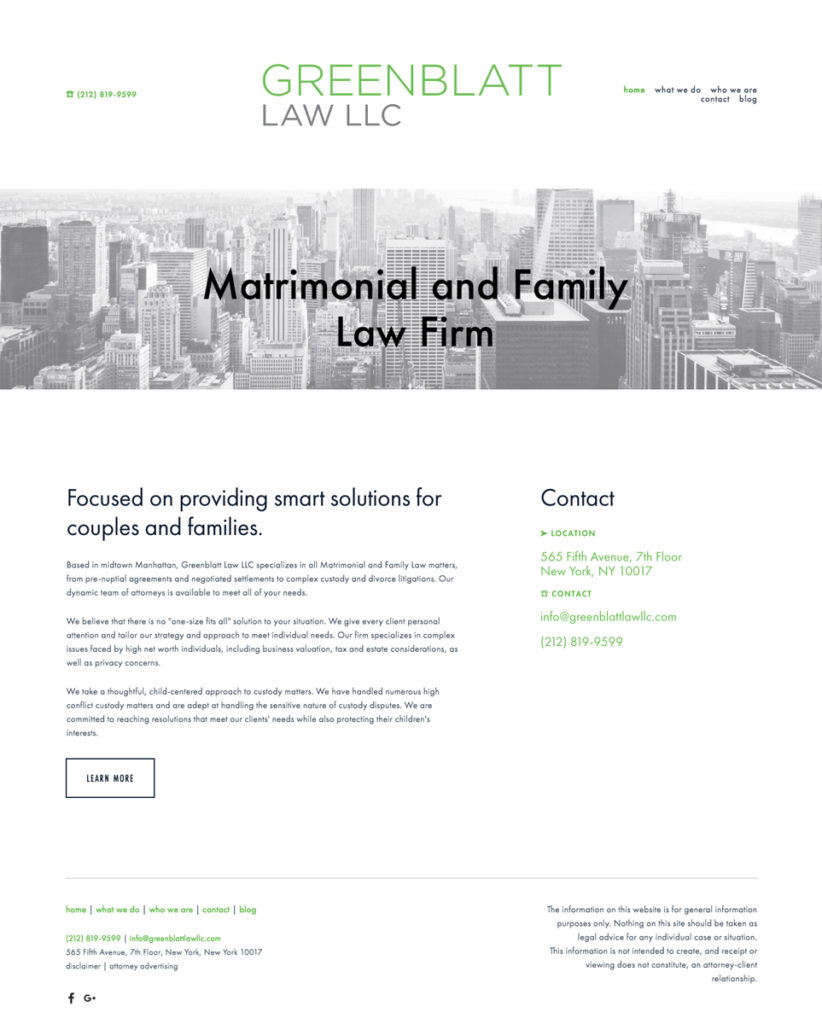 Elysa asked if there was any way we could make a website nearly identical to what she had on SquareSpace. Since her website was fairly simple with very few pages and posts, we immediately said yes. She wanted us to make the website as close as possible to her old website. This is not the first time a client has asked us to go for the same look and feel on a website. However, she wanted it to be a lot more closely like her old page. So… we happy obliged!
While we were working on her new page, she had also requested some changes that she couldn't do in SquareSpace. We removed the dark blue text from her homepage and replaced it with grey text to match. We changed the header font (since she did not like the one she was using on SquareSpace) to one that she liked better, and made it easier to read along the city skyline image in the background.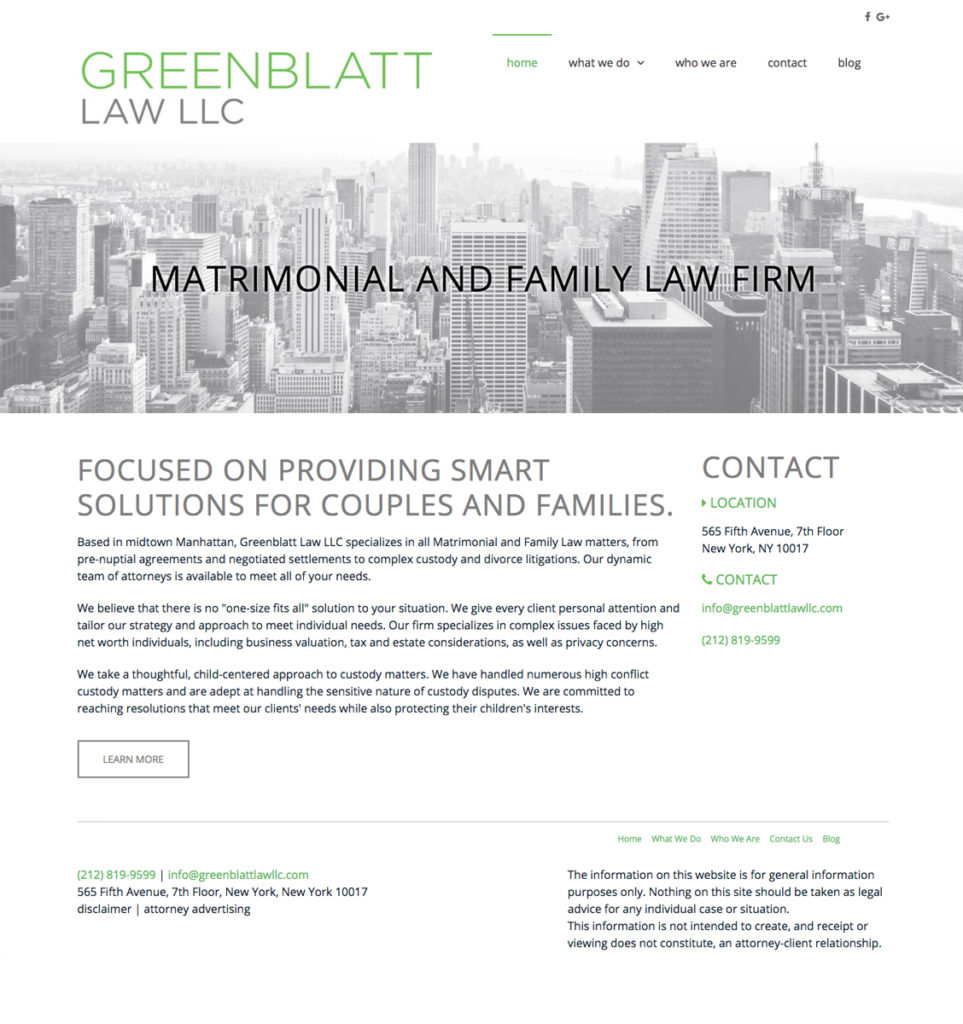 Overall, we got the same look and feel (nearly identical!) to the last website, while reaping additional SEO benefits, giving more control to our client to decide what shows on the web about them (and how!). On top of this, we also gave the site a massive speed increase, and made it a lot more responsive on mobile. We'd say that's a win for the client!
[bais_before_after before_image="https://www.hasoptimization.com/wp-content/uploads/2018/02/greenblattold-site.jpg" after_image="https://www.hasoptimization.com/wp-content/uploads/2018/02/greenblattnewsite.jpg"]
Need a new website? Want to port your website onto WordPress? Need something else? Contact us today!