Posted by Aimee Cozza on December 1st, 2017
When we take on new clients, often times they hand over DIY projects and websites to us to continue working on. While we are all for taking responsibility into your hands and trying out the DIY route, we often have to explain to our clients why sometimes DIY website builders aren't the greatest things. Sure, if you need a basic web presence and need a decent easy-to-use and easy-to-make website in a pinch, we applaud your effort of using a web builder online. Still, understanding some of the shortcomings of these website builders can help you make a more informed decision over whether or not you should pay for a website.
This blog post is dated November 10th, 2017. All information is up to this date only. These website builders are subject to change, and can add or remove features at their own discretion with or without notification.
Weebly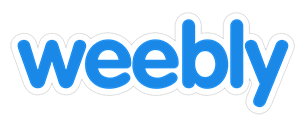 Weebly is by far the best website builder we usually come across. It's easy to use, has a lot of features to keep your website aligned, responsive, and looking decent. But with all drag-and-drop website builders, it does have its shortcomings.
What we like about Weebly
If you have any knowledge of CSS and HTML, you can really get into the nitty gritty of your site. There are options to edit the HTML and CSS directly which is great for really getting in there.
The pages are strictly HTML. Not that there's anything wrong with PHP but… HTML only is fantastic for page load speeds and viewable across any platform. Plus it makes printing a breeze!
What we don't like about Weebly
Limited ability to customize your website. Most drag and drop website builders are like this. They give you a basic template to work with, then you must work within the confines of that template.
Limited responsive web design. What this means is that you really need to pick carefully on your base template and test it before you use it on screens of all sizes. Certain themes do have responsive design, but others don't, and there's no way to add it after you've selected a theme and made your website look good.
SEO limited: You can't add alt or title text to certain images without going into the actual source code. It's not a huge SEO issue, but it's annoying enough to set off any third-party auditor software.
If it doesn't work, that's it. There's no calling your domain provider for assistance, or going into the back end to see why. You just have to wait it out and hope it comes back up.
SquareSpace
SquareSpace is a common website builder that we see used. While their templates look good at first glance, we've got a love-hate (or maybe just begrudging use it and hate it) relationship with SquareSpace.
What we like about SquareSpace
For someone who doesn't know anything about a website, you can make a nice looking one. Using their templates and making sure you use high resolution images across the entire thing, you can make a nice looking site very easily. This can be a huge seller for anyone who is a novice at web editing!
What we don't like about SquareSpace
Limited ability to customize your website. Better pick a great template, because you're stuck with it. Sure, you can switch to a different template, but you can't do much to change the layout of your blog or how things are organized. Unless you're super well versed in CSS and HTML, using a lot of the back end functionality can be exceedingly difficult.
It's slow. Logging into the provider and editing sites has been slow personally for us.
SEO limited: The only way to get individualized meta information for separate pages is to hard code it in… And even then it doesn't work out well. There have been attempted workarounds with the "page header code injection" SquareSpace offers, but it isn't very good. This is a huge SEO issue and it's crazy that SquareSpace has this issue.
If it doesn't work, that's it. There's no calling your domain provider for assistance, or going into the back end to see why. You just have to wait it out and hope it comes back up. You can phone in to SquareSpace, but they may just say "we're working on it" and leave it at that.
Pricing: SquareSpace can be a bit pricey. It's currently $12-$16 a month for a personal website, or $18-$26 a month for a business website. So expect to pay anywhere from $144 to $316 per year for a SquareSpace site. Ouch!
Wix
By far our least favorite website builder. Wix is available to anyone free of charge. If you need a real quick site made, you might go here. However, Wix is extremely limited for Google Analytics tracking or any advanced website usage.
What we like about Wix
They're trying. For one, it's been years since we've worked on a Wix website because the first thought to us when we see one is: run. However, reading up on Wix they've really been doubling down on trying to get on par with other competitors when it comes to SEO and other page ranking factors. Good on them!
What we don't like about Wix
No eCommerce tracking. Forget getting data on what people are buying, when they fall off, or more. There's no eCommerce tracking available for Wix. Bummer.
External auditing software doesn't work. A lot of Wix websites use or used to use Flash items or items that don't show correctly or responsively on all browsers and all devices. This makes it hard for auditing software to work.
SEO limited: You can set a global title, description, and keyword for the entire website. This is a huge SEO issue and again, it's crazy that Wix would have this issue.
One size does not fit all. Templates provided by Wix often tout that they can do everything you would ever possibly need and make a great website to boot. This is not true. Even when we build websites for clients using a base template on WordPress, oftentimes these templates can be lacking in many areas. However, having the ability to change and modify — add and remove as we need to — is a huge factor in making the website as best as we can, which Wix simply does not offer. What you see is what you get when you use Wix.
MobiRise
This is a different website builder that you may not be familiar with. We had a client come to us recently with a website made in this builder, so we've had to become familiar with this particular building software. This is different from the above builders because you have to download software to run on your computer rather than building it within the browser. You then FTP (upload) your files to your web server once you're done uploading.
What we like about MobiRise
Complete control. Because MobiRise uses files on your computer, you really do have complete control if you know what you're doing. You have the files and you can import or export them as necessary, even pulling them into a site editor like Dreamweaver if you need to.
The pages are strictly HTML. Not that there's anything wrong with PHP but… HTML only is fantastic for page load speeds and viewable across any platform, just like Weebly.
It's free! Free is free, and free is awesome most of the time, right?
We we don't like about MobiRise
No collaborative editing. Because all of the files are hosted on your computer and your web host, it makes collaborative editing difficult. You can't really have more than one person editing your site without risking overriding it with changes of your own. This can be annoying and time consuming, and can force you to jump through a lot of hoops to to try not to undo your own work.
Downloading a file? Who does that? You need to download a file to edit and use that on your desktop computer. We don't know about you, but we're ultra-wary of downloading and installing things off of the internet these days.
Desktop-only editing. Because you have to download a file to run, this really limits where you can edit, meaning you can't edit on your Android, or your iPad, or any other device that isn't a laptop or desktop machine. Forget on-the-go quick edits — you'll have to get to a machine to use it.
Perhaps website builders are good for some, but not for all. If you're ready to talk about starting a fully functional site, contact hasOptimization today.