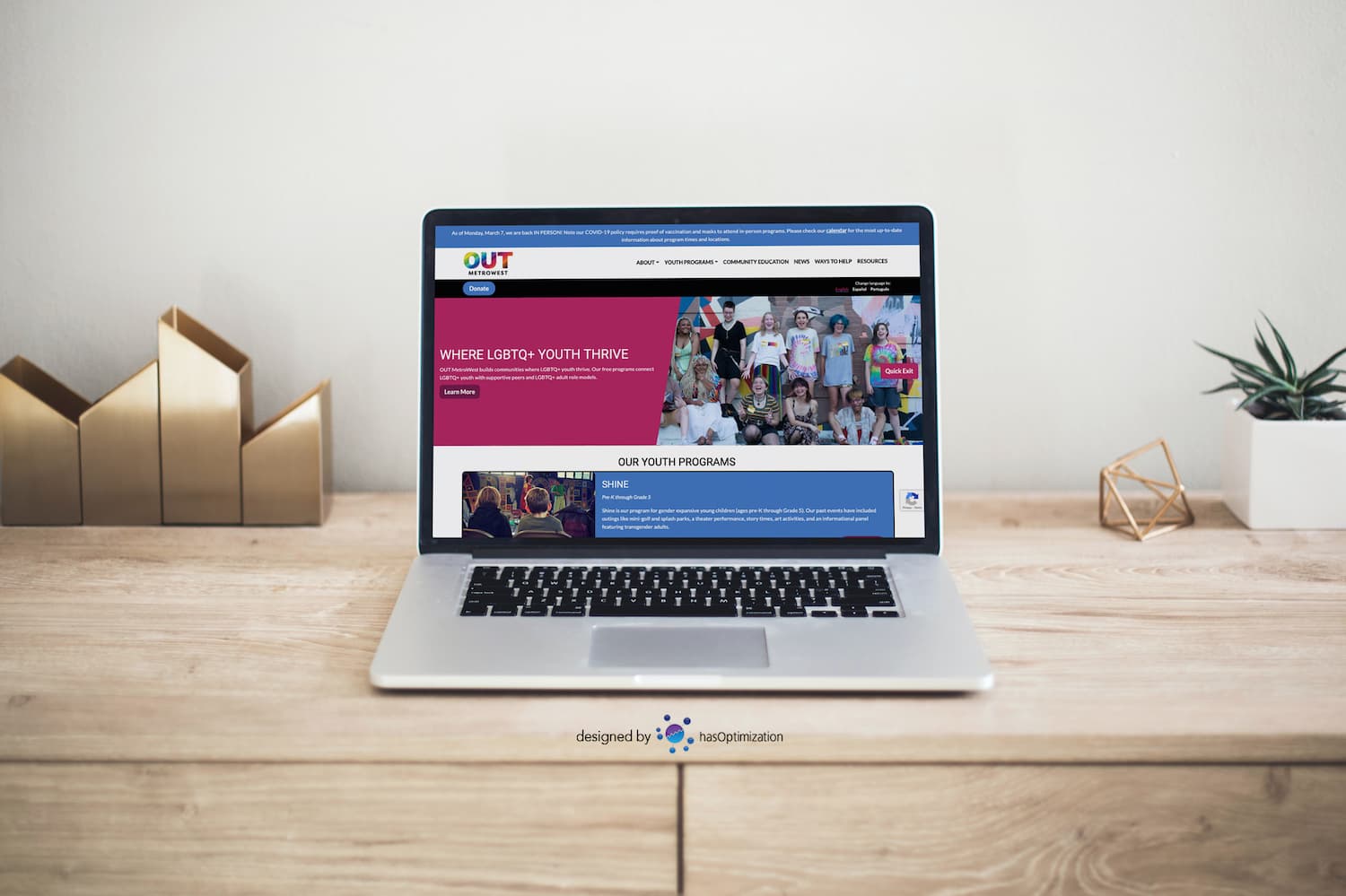 Posted by Courtney Fappiano on March 17th, 2022
hasOptimization is proud to announce the launch of a new site for OUT MetroWest. Located in Framingham, Massachusetts, OUT MetroWest builds communities where LGBTQ+ youth can thrive and affirm LGBTQ+ identities through positive role-modeling. OUT MetroWest has been supporting the LGBTQ+ community for over a decade and has grown over the years to fit the needs of the community.
hasOptimization has been working with OUT MetroWest for the past couple of years. We had assisted them previously with a miniature rebuild of their website in an emergency situation, and they were now ready to completely rebuild their website using a fully custom approach. They were looking for a logo and site that represented the LGBTQ+ community and incorporated their new programs. It was also important to them that they were able to update the site to reflect any changes to programs, especially during the pandemic when in-person and virtual meetings seem to shift weekly.
After settling on a logo, we began to formulate the site design. OUT MetroWest wanted a site that felt fun and inviting to LGBTQ+ youth but also professional and trustworthy. We wanted to combine the bright colors from the logo and as many images of OUT MetroWest participants as possible. Luckily, the team at OUT MetroWest did not fall short in supplying us with fun images to use! Upon landing on the site the smiles of happy teens welcome you into a space of acceptance and inclusion.
It was important to the folks at OUT MetroWest to have this site be accessible to not only English speakers, so we added a plugin that allows the user to switch between English, Spanish, and Portuguese – or more languages if desired! Now users are able to read the site in their own language and trust that the content was developed by an experienced translator and do not need to rely on Google Translate.
We are excited to continue our relationship with OUT MetroWest and look forward to working with more organizations that promote acceptance and equality. If you want to learn more about OUT MetroWest and the awesome programs they offer, check them out at outmetrowest.org.