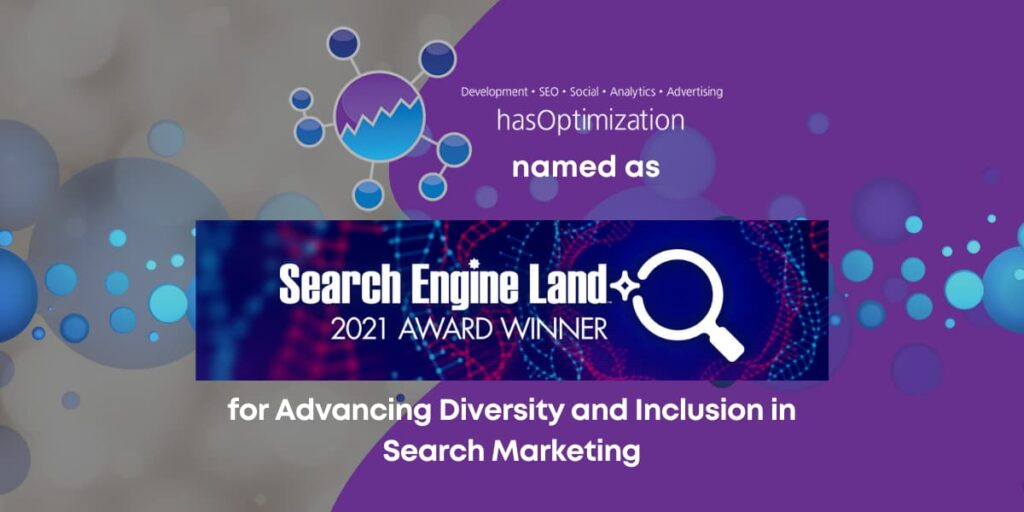 Posted by Logan Snyder on October 20th, 2021
I am absolutely thrilled to announce that hasOptimization has been named the Organization winner of the Search Engine Land Award for Advancing Diversity and Inclusion in Search Marketing! You can read more about this award, and the individual winner Rejoice Ojiaku, on Search Engine Land.
"I have so much respect for the work that hasOptimization are doing. They are setting the standard for what an agency should focus on when it comes to web inclusion and accessibility. With a brilliant team and a diverse clientele, their mission on making the web a better place can be seen through the services they provide and the clients they serve."

Award judge Areej AbuAli
I've worked hard to make hasOptimization a friendly agency for minority business owners to engage, as well as a good workplace for my staff, many of whom are queer and/or neurodivergent. I'm really deeply honored that longtime staff member Aimee Cozza nominated us for this award in the first place. There's few better feelings as a business owner than knowing your team appreciates what you're working towards.
While I am over the moon to receive this kind of recognition, I know that we can continue to do more and better for our communities. We'll continue to strive for more diversity in our staff and clientele, as well as pushing for greater accessibility across the web. The internet has the capacity to be a more level playing field for people of diverse backgrounds, lifestyles, and capabilities, and we're making it our mission to make the web a friendlier and more accessible place wherever we can.
Thank you to everyone who's helped to make this possible. Truly an honor.