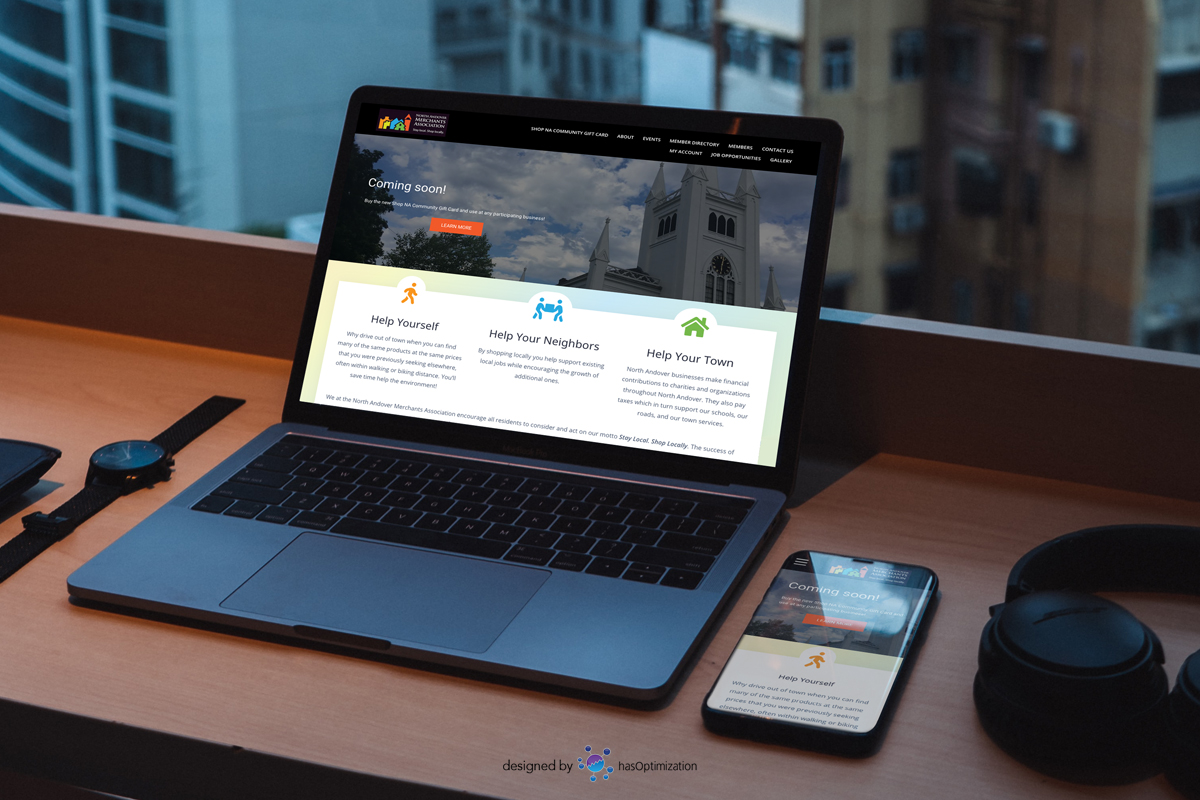 Posted by Aimee Cozza on September 13th, 2021
hasOptimization is here once more to proudly announce the launch of a new website for the North Andover Merchants Association! North Andover Merchants Association, or NAMA for short, is a chamber of commerce-esque non-profit organization dedicated to helping local North Andover businesses succeed.
Too. Many. Plugins.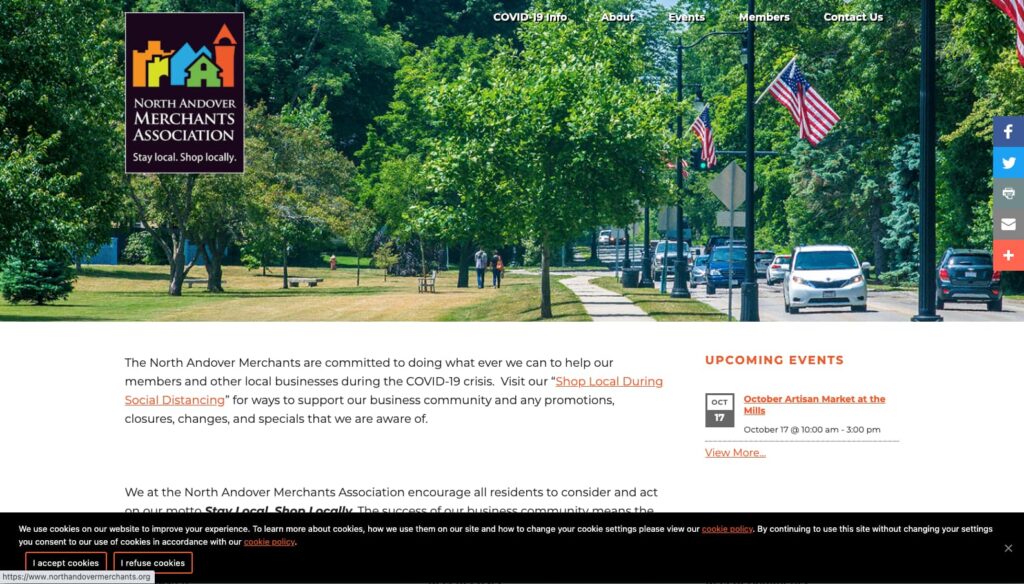 We were introduced to NAMA through our client BlueDog, a North Andover and Lawrence pet care business. NAMA had some issues including a slow loading site when they came to us, which we were able to rectify with some simple hosting changes, as well as removing some plugins. When a site begins to have more than 20 plugins at a time, it can cause a host of problems, including slow load times and errors. This was precisely what was happening with NAMA as they ran into slow load times and strange errors for their members.
Most of the NAMA site relied upon the use of a variety of plugins that hooked into other plugins. Normally, this is not an issue, but given the original developer held licenses for these paid plugins and was no longer in the picture, NAMA was left on the hook to pay the yearly licensing fees per plugin, which came out to over $500 in plugin fees alone.
It is always a good idea to pay for software that is useful to you, as this is how you can ensure that plugin authors continue to support the plugin you are using. Plugin authors should be given credit and paid for their work, when applicable, just like you should pay a business for services rendered, or an artist for artwork created. Still, paying for a handful of plugins with a lot of usefulness to you is one thing, but having to pay for every plugin on your site can be costly. Business owners don't want to rely on a yearly invoice for software if avoidable, and when possible, we like to reach the limits of quality, free software, along with our ability to code custom solutions in many cases, before turning to paid plugins. Because of this, we can offer our customers sites that cost their price to build, and perhaps the cost of one or two reasonably priced plugins, without the necessity for relying upon an abundance of paid plugins to get the job done. This can come with significant cost savings, and for NAMA, the cost of a new site build would "shake out" in just a few years.
New Site, New Features
Because we refreshed all of NAMA's solutions for their membership-style site, we were able to add a variety of features as well, including a directory that also includes categories for the member's business via a user taxonomy, a calendar that hooks right into Google Workspace's calendars, which makes updating it a breeze, as well as shifting the necessity of updating member profiles onto the members themselves. As a requested addition, we included a job board. Members who have paid to access the site can post their open job positions onto the job board. We also included ways for members to see and access certain pages, such as a page with instructions on how to edit member profiles, post jobs, and more.
In addition to the software overhaul in the backend, we additionally gave the website a complete facelift, introducing a slick new color scheme, homepage slider (if desired), and reducing hard to read areas, like the menu bar, from the original design. We also included new visual aspects and text on the homepage that better describes what NAMA does.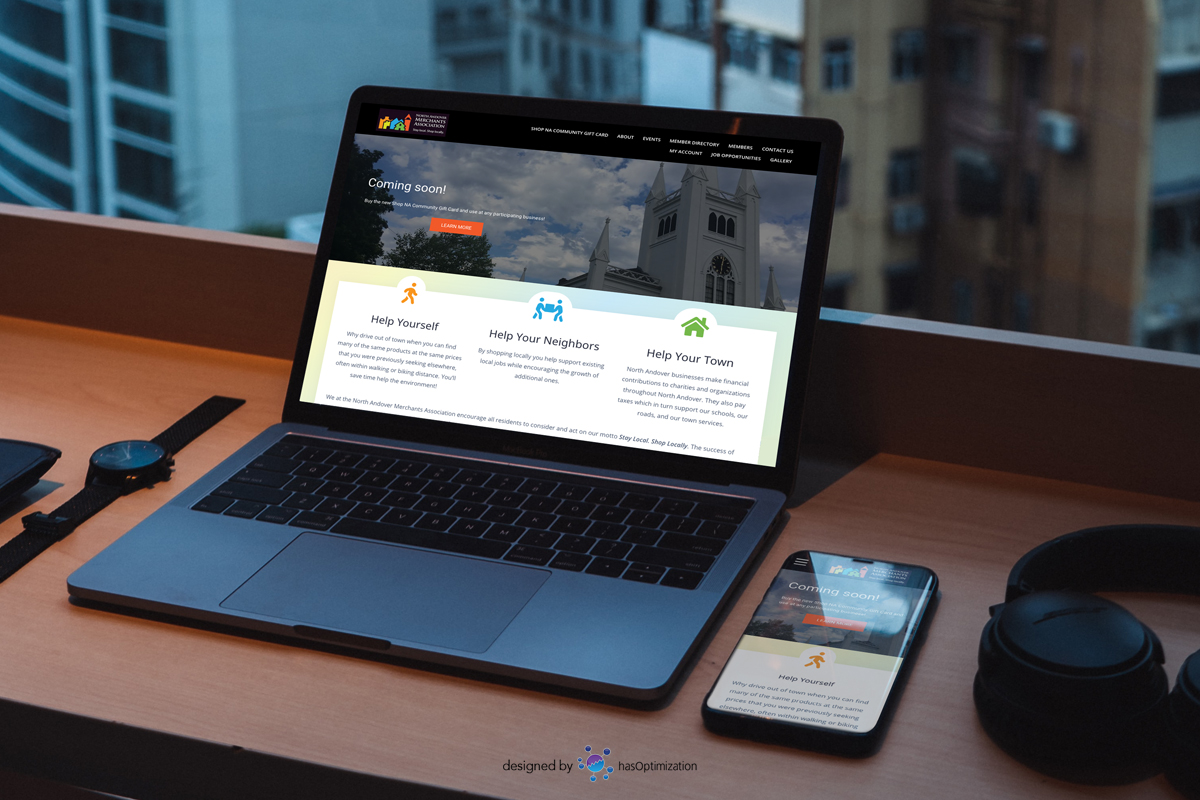 We hope this new, updated website better helps the North Andover Merchants Association serve their members, and helps them avoid a deluge of plugin license fees for years to come.
Are you looking for an upgraded website? We'd be happy to help! Contact us today to get started.