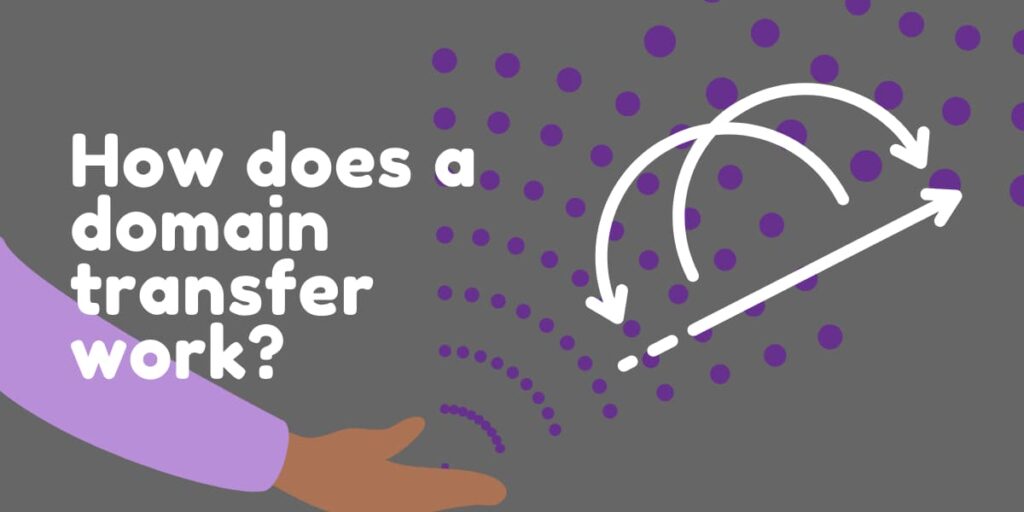 Posted by Aimee Cozza on September 27th, 2021
People choose to move or transfer a domain for many reasons. A lot of those times, consolidation is the reason, given that having your domain in the same place as your host makes billing easier and less confusing. However, domain transfers can also occur when a company is sold, or a registrar is not living up to everything you thought they would be. Here's how you can expect a domain transfer to work, and the steps needed for you to transfer a domain. This is a non-inclusive list and a general guide to what you can expect, not a how-to; your registrar's options will vary. If you are not confident with a domain transfer, you should have a professional handle it, as you can definitely make your website, email, and more unreachable if configured incorrectly.
Step 1: Find your registrar
Your registrar is the person, or business, that you registered your domain with. This may be NetworkSolutions, Dreamhost, or some other registrar capable of registering domains. Domain resellers are common as well. If you don't know who your domain is registered with, you can conduct a whois search on ICANN to get an idea of who your domain may be held with. If you have privacy enabled on your domain, you may be able to get a clue through the abuse reporting email address, or by looking at your A records or nameserver records.
Step 2: Get access to your registrar
Once you've figured out who holds your registration, try to log in. If you can't log in, try to reset your password using your email address. If none of those work, you can contact support to see if they can help you gain access. If the account it is registered to doesn't belong to you, you will need to contact the person it belongs to. The registrar will not provide this name to you, but it's likely someone you did business with in the past. Try to recall who may have registered your domain for you, and reach out to them to see if they can give you access or transfer the domain over to you.
Step 3: Check your account settings
If it's been a really long time since you've updated the email address on your account, now would be the time to do so, as some registrars send authorization codes to your email rather than make it available to view on the registrar's website itself. Make sure your information is up to date, and give it at least 24 hours before starting the transfer process.
Step 4: Remove any privacy settings on the domain
Domains cannot be moved if privacy settings are enabled. You will need to fully disable any privacy settings prior to requesting that your domain be transferred. Sometimes this will require a two-factor authentication to be performed.
Step 5: Unlock your domain
Locking a domain to a registrar keeps the domain from being transferred without your knowledge or consent. However, you will need to unlock the domain before you can transfer it.
Step 6: Request authorization code/transfer code/EPP code
Your registrar may call this something different, but this is frequently called an authorization code or EPP code. It is a randomly generated string of characters (it will look like a totally random password) that is associated with your domain, which ensures that only people who have this code can transfer it. Sometimes these will display right on screen, and other times they will take a few days to be emailed to you. Pay attention to what the registrar says it will do to get this to you. Authorization codes are time sensitive, so if one has been around for a while, you may need to ask for a new one.
Step 7: Begin transfer request with new registrar
Now that you have everything you need, you can head to your new registrar and start the transfer process. There is usually a page where you can input your information, the authorization/EPP code, what domain you are transferring, and the registrar will take payment for the transfer. Most transfers will cost a fee, but will add one more year to the length of time on your domain registration. Make sure to pay attention to any domain lock features (some may lock your domain for 60-90 days after transferring) and opt in/out of privacy protection features as necessary.
Step 8: Check the status
Most domain transfers take about a week with no intervention. Still, it is sometimes possible to expedite a transfer with your former registrar. GoDaddy, for one, has a tool where you can see transfers going out and approve them right away, so you can get your domain transferred quickly. Not all registrars have this however — in fact, most don't — so don't expect this to be the norm. You may have to wait a while!
Step 9: Lock your domain
Once you have successfully transferred your domain, you will want to ensure transfer lock is turned on at the new registrar. You may also want to configure auto-payment or auto-renewal as well while you're there.
Have questions about domain transfers? Let us know in the comments!