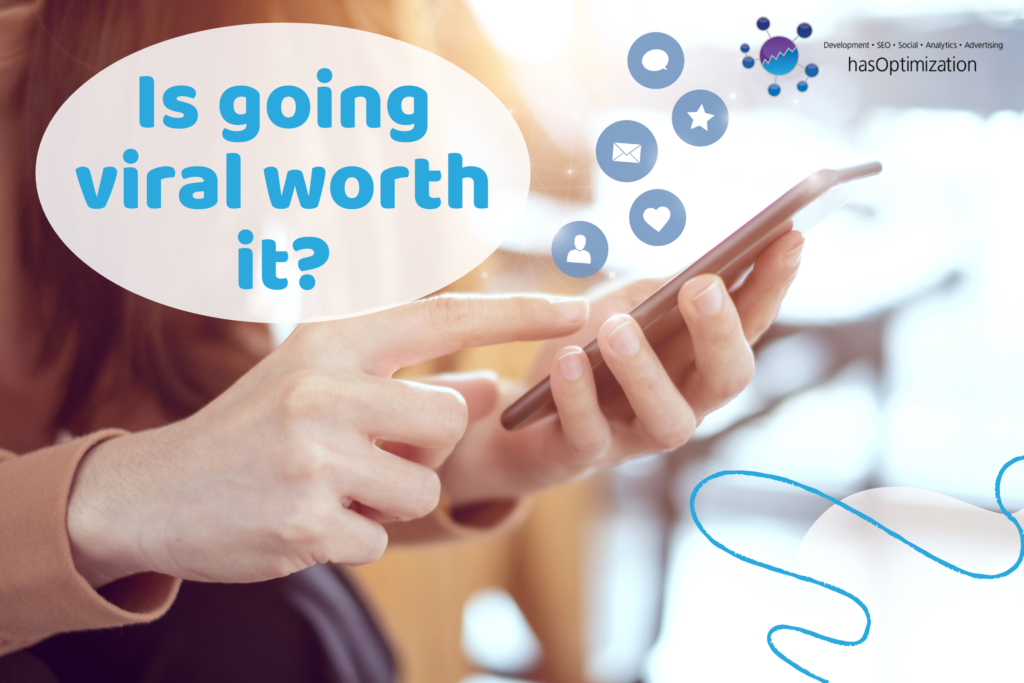 Posted by Allyson Grammo on June 23rd, 2021
Is going viral worth it?
Going viral is very exciting, but do those big spikes in engagement actually lead to more overall traffic? In this blog, we'll take a look at a few of our recent viral posts and weigh the pros and cons of their impact on our social media following. Read on to learn whether or not it's worth trying to go viral and how it can influence your business's social media marketing.
Findings from our viral posts
Earlier this year, we held a pet competition to see which of our team members had the cutest pet. We had a lot of fun with it and the content we posted during the competition was relatable to a wide audience (mostly because it was extremely cute!), so it's no surprise that a few of our posts went viral!
So, what starts the ball rolling to make a post go viral? There are many different factors that impact a certain social media platform's algorithm, but having content that your potential audience would want to see is a great place to start. In our case, we wanted to share our team's personal side as well as show off our cute animals. One of the Instagram posts that went viral was a Reel about ducks, which was the second one in a video series about different duck facts. The other duck fact videos did not go viral, which shows how variable Instagram's algorithm can be.
The two posts that went viral were seen by over 4,000 people combined, which was quite a difference compared to our usual post reach. The organic engagement rates on these two posts were also drastically increased compared to our usual engagement. On Facebook, our overall engagement for the month went up by 2325% and our post reach went up 455.85% compared to the previous month. On Instagram, our metrics went up as well, with a 892.86% increase in engagement and a 3539.32% increase in post reach compared to the previous month.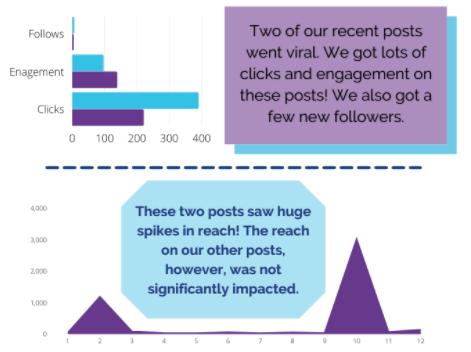 As you can see from the above graphs, these posts had an incredible amount of engagement and reach compared to our usual content. We found it incredibly easy for our content to go viral as Reels on Instagram, but not on many other platforms. Despite these large spikes in engagement rates, the overall performance on our other content was not largely impacted. In short, that shows us that even though those two posts were seen and interacted with by a lot of people, those people didn't really take a look at our other posts.
Pros and Cons of Going Viral
If you're hoping to build your following on social media, aiming to only make viral content might not be your best bet. While viral content might help your engagement and reach, it might not get you the loyal customers you're looking for (and might also bore your current followers as well)!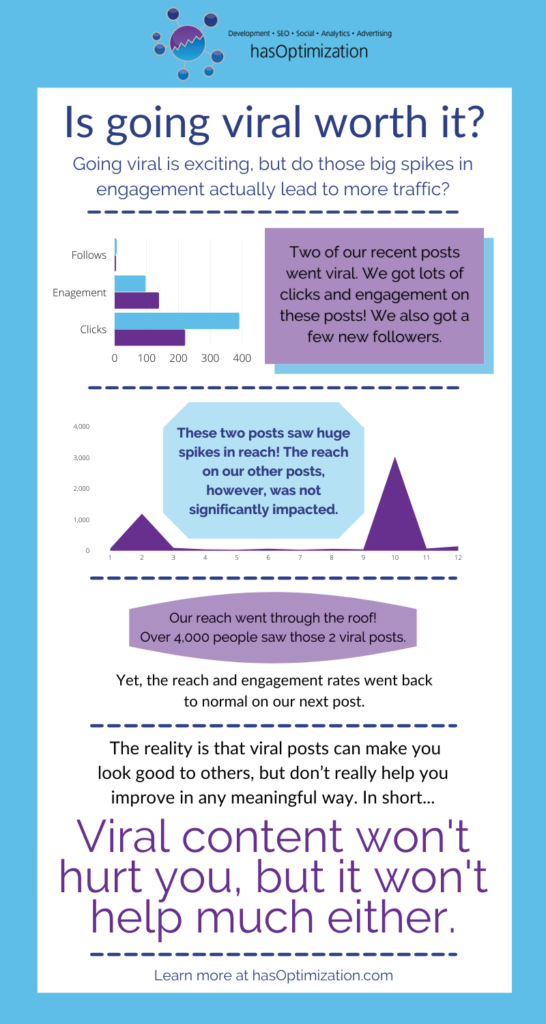 Viral content usually goes viral for a reason. These types of social media campaigns are usually relatable, about topics that are widely liked, and often show the fun side of your business. This content can be useful because it can get a wide amount of viewers and could potentially raise awareness about your brand. This type of content is very inviting and can be easily engaged with, but at the same time, it is likely not what you'd typically post about.
Although viral content might get you an impressive amount of views or engagement, it probably won't significantly impact your social media following or your sales numbers. A lot of Facebook or Instagram users view viral content, like it, and move on. This means that these people likely aren't going to your account and following you or even going to your website to buy your product or service. Viral posts do sometimes have the ability to increase your follower count, but in the end, they don't do much.
Viral Posts Are Overrated – So Make Engaging Content Instead!
While we did get a couple new followers from our pet competition content, and it feels great to get that number of views, our viral posts didn't lead to any sales or a significant increase in our engagement rates. Since the post was about pets rather than something that is relevant to our company, like social media marketing or website development, these posts also didn't raise awareness about our brand.
If you really want your social media posts to perform well and attract loyal followers (and customers!), the best thing your business can do is show your personal side. Social media content that's personal and offers education or insight shows your customers that you care – both about them and your products/team! Posting consistently, using researched and relevant hashtags, and engaging with your followers really makes a difference when it comes to social media.
If you'd like some help making engaging social media content that will help your business grow, check out our social media and reputation management services and feel free to contact us for more information.