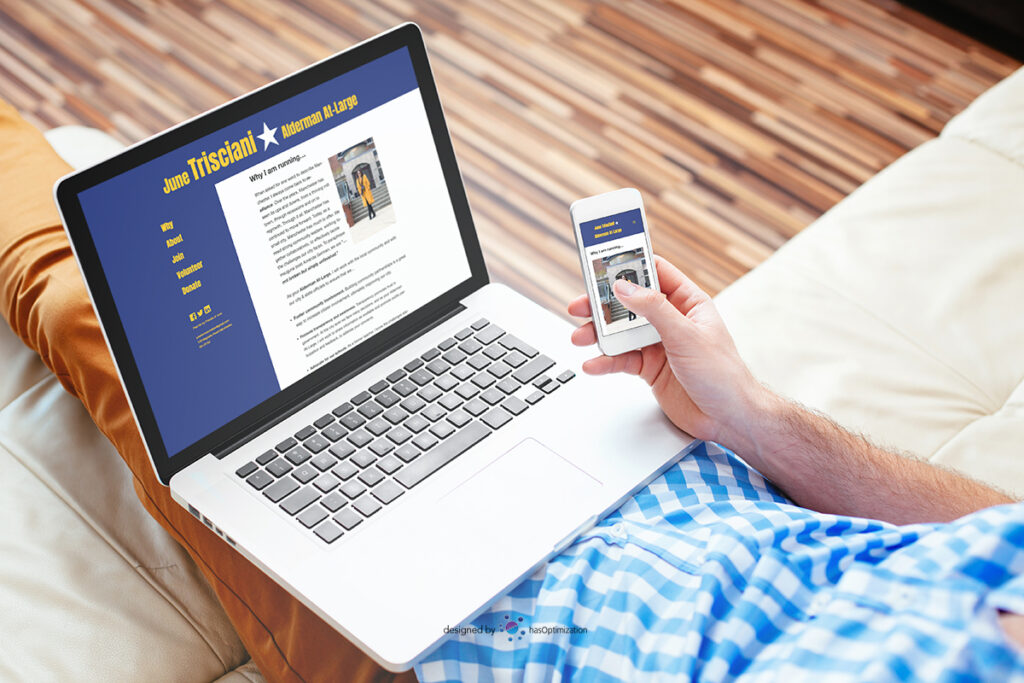 Posted by Courtney Fappiano on May 24th, 2021
hasOptimization is excited to announce the launch of a new website for a local political campaign, June Trisciani for Alderman At-Large, Manchester, NH. When long-time client June Trisciani from J. Ellen Design, LLC came to us with a new website project, we were eager to help. June was beginning her campaign and needed a site to start getting the word out.
History
June hired hasOptimization to build her website (and subsequently rebuild it) for her interior design firm quite a while back (she was actually one of hasOptimization's first clients!) and we have been managing her site and social media presence ever since. Building her site for Alderman at Large was a little different: instead of showcasing interior design and projects being top priority, June put ease of navigation and access to information first. She wanted users to get her campaign information as quickly as possible.
Design
June provided to hasOptimization a proof-of-concept site built in raw HTML. The site was a one-page site, which isn't the best for SEO. Using this site as her basis, as well as her campaign sign as inspiration, we were able to pull this into a WordPress CMS environment to allow June maximum efficiency in adding information to reach to her potential readers. The result is an eye catching, bold design that conveys June's message of resilience, advocacy, and fostering the community for a strong future. All of this alongside WordPress' versatile, strong backbone allows for possibilities of usefulness and life well beyond the length of the campaign.
Features
It was important that users who visited the site would be able to interact with June's campaign to donate or volunteer. We added an onsite volunteer signup that allows users to sign up directly from the site and get started. The option to donate to her campaign is just below with a message from June thanking the community for their support. Additionally, the site design is fit for devices of all sizes – from television screens 55" wide to mobile phones with tiny screens, the responsive theme shifts accordingly. We know how important mobile first indexing is to Google!
Lastly, we packed the site with worthwhile meta titles and descriptions to help June hit the ground running once the site was launched, making this an easy site to search for and discover throughout the campaign process.
hasOptimization has been honored to be a part of this project and look forward to watching June's involvement in the community grow. If you are interested in learning more about June's campaign, visit her website at juneformanchester.org