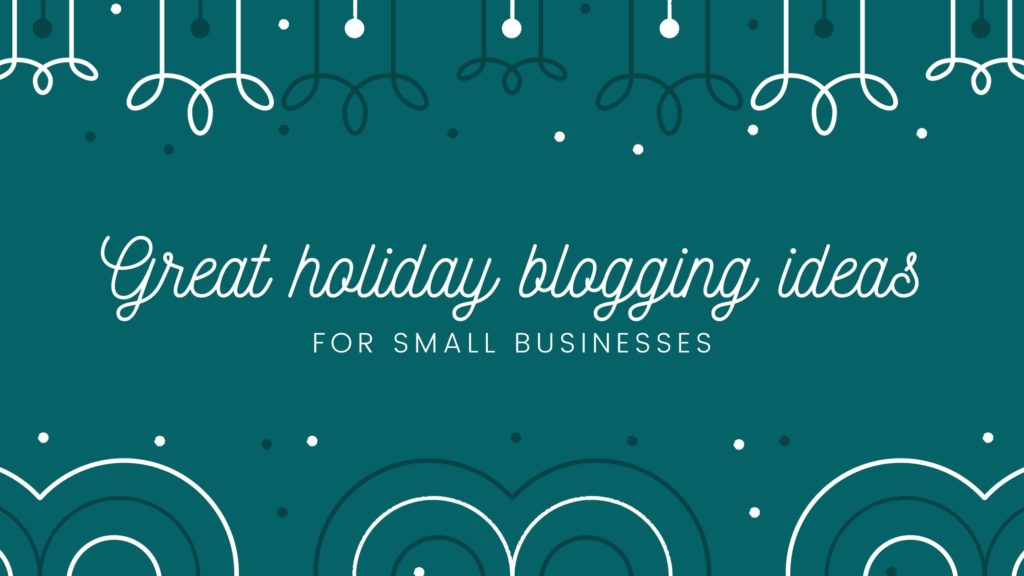 Posted by Aimee Cozza on November 19th, 2020
When it comes time to make those holiday sales, capturing holiday traffic is important. That means focusing your efforts on using holiday-appropriate keywords, making appropriate blog posts, and updating your website copy and content to reflect the oncoming holiday season. Blogging is an important part of your marketing strategy to bring in new customers, and if you don't want to modify page content or create a bunch of new landing pages, blogging is where it's at.
When to post
It's important to note that if you're planning to blog for the holidays, you should start now. The reason being that Google takes time to crawl pages and may not discover your holiday-themed post until it's too late. It's better to work on blog posts now and get them out the door, then modify them and edit them a little later to add new content, products, and information so Google has your blog post appropriately indexed in time.
Great ideas
While our holiday ideas aren't all inclusive, this inspirational list can help you get started generating some great holiday-themed marketing content to jettison your small business into success this holiday season. Be mindful of your use of the term "holiday" over "Christmas" (we'll have a blog post on this shortly!), especially if you are writing information about gift-giving, as Christmas is the holiday with the most gift-giving intent.
If you have a brick and mortar business…
How you are preparing for holiday shoppers (especially the COVID-19 preparations you're taking)
Changes in your holiday schedule (days you are open, extended open, or closed)
Holiday events, tastings, or other holiday themed things you are offering (tree lighting, decor, ice sculpting, etc)
If you are selling physical products…
Gift-giving ideas for people who are hard to shop for
Gift giving ideas for men
Gift giving ideas for women
Gift giving ideas for children
Gift giving ideas for pets
Gift ideas under $50/$100/$200 etc
Stocking stuffer ideas
Corporate gifting ideas
If you are selling a home service…
How to get your home ready for the holidays
How to clean your home for holiday visitors (2020 note: Please don't invite people over who do not live with you)
If you sell food products…
Holiday appetizer ideas
Holiday cocktail recipe ideas
Holiday entree meal recipes and ideas
Holiday dessert recipes and ideas
How to work around allergies, specific dietary requirements, etc during the holidays
How to avoid fatty foods during the holidays
General Posts
Ways that you can show that you are thankful for your clients
Ways to give back to your community
Things you are actively doing to give back to your community
Local places you can make donations
Local places you can volunteer at
Virtual and digital holiday themed things you can do or attend
Ways people can hear about your latest holiday special offers (email signup, social media, etc)
Holiday traditions from your team
Holiday photos from your team and/or office or business (how your office is decorated, how people are dressed, etc)
The year in review
Goals you have for next year
Have some other great ideas? Let us know in the comments!