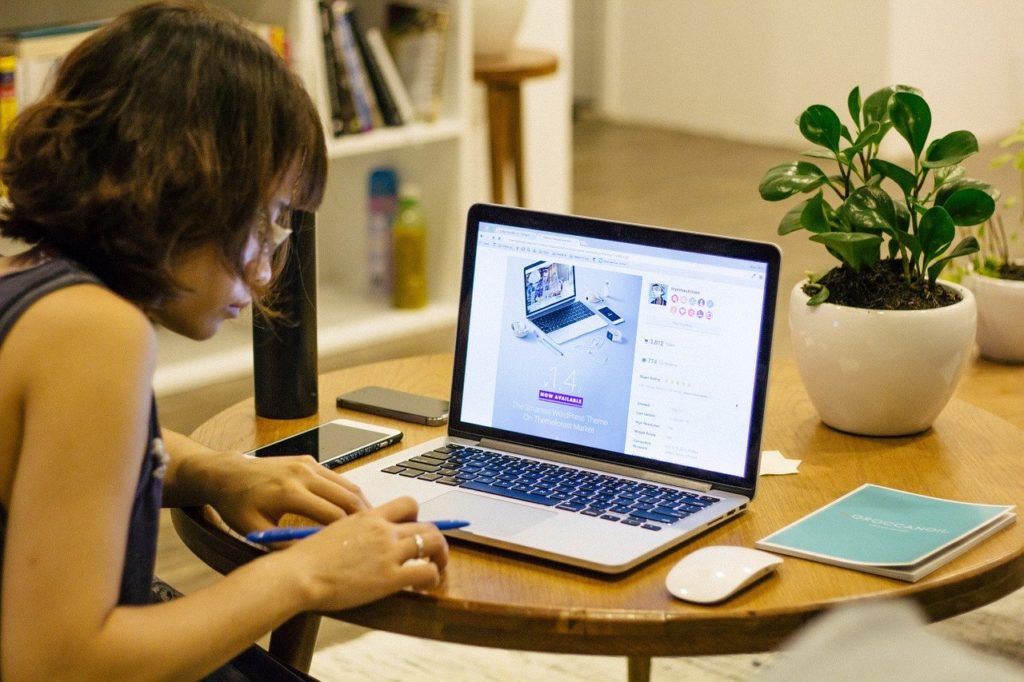 Posted by Aimee Cozza on March 16th, 2020
During this time of uncertainty, many companies are opting to adopt work-from-home policies. Working from home is great… If you have the kind of self-discipline to be at home around your pets and family and do meaningful work at the same time. Not everyone is an ideal candidate to work from home, and we understand that it can be more difficult for some people than others. hasOptimization is a work-from-home company, and we wanted to share with you some of the work from home tips and tricks to help you be as efficient and comfortable as possible during this time. This post has tips from both Aimee and Logan! We've been working from home for a combined 15+ years.
#1 Have a comfortable chair
When you're sitting at your job, you probably get up and move around a lot more than you think. You probably don't notice how uncomfortable your chair is. When you become more hyper-focused on your work while you're at home, you may notice that your chair is inadequate. While it might not be a great idea to go out and buy an office chair right now, you can fix up your current chair to be more comfortable. We've found that memory foam cushions for the seat are most important and can really save your derriere, but any pillow will do.
#2 Remove distractions; make work and personal separate
If you need to use your own personal computer to work-from-home, removing areas for you to get distracted can help you stay focused. What we've done is create separate accounts on our computers, tablets, or even phones for work-related stuff. Some of us also use external hard drives for all of our work-related files, so we're not clogging up our precious personal computer hard drive space for work stuff. You can utilize work mode on Android devices to turn off annoying apps like Facebook or Instagram (especially if you don't need them) while you're working. Use separate browser sessions (or even an entirely separate browser) to help segment work.
#3 Put on some music (or TV)
You may think it's a great idea to just sit down in silence and start working, but it's much easier to have something in the background, especially music you enjoy. It will certainly help uplift your mood while working from home! If you plan to put on a video or movie, put on something you don't want to pay too much attention to — try a show you've seen a thousand times before (It's Always Sunny in Philadelphia, anyone?). Also make sure it's not in your direct field of view so you don't get sucked into watching it.
Logan recommends music with a steady beat that doesn't rely on lyrics for your enjoyment. Music that can be a funky background without requiring much of your brain is the way to go. Logan's favorite is a Pandora station based on Daft Punk, but your mileage may vary!
#4 Open the curtains — and maybe the windows — when it's sunny
Make sure you're not sitting in darkness and feeling gloomy. When it starts getting sunny, open up the curtains so that sun and its much-needed vitamin D can hit your skin. If it starts getting warm, crack open those windows and enjoy some outside air.
#5 Set a definitive start and end time
It's easy for a boss to ask for you to do anything at any time when you're working from home. Set a start time and an end time and start at that time and end at that time. This is important to retain work-life balance! That means putting up the away message or marking yourself as away on places like Google Chat, Discord, or Slack once you're done for the day. And don't let your boss pressure you into working on non-emergency items after hours. Your boss should be well aware of your working hours and respect them. Don't feel ashamed to say "send me an email and I'll take care of it tomorrow". Utilize tools like Google's scheduled send to send emails during operating hours so customers, clients, and your employer don't think it's OK to send you emails at 2 AM if you're working and can't sleep.
#6 Take little breaks
Burnout is real in the work-from-home game. Sitting in front of screens all day can really put a damper on your mood. Take a 15 minute break to do something every couple of hours. We have some tips on this, too.
Here are some break time ideas:
Clean something in the house briefly (vacuum, wash dishes, clean counters, put in laundry, etc). Disinfect a couple doorknobs.
Take the dog for a short walk
Go outside and get the mail
Briefly weed your garden
Take a snack break or smoke break
We would suggest when taking a 15 minute break that you do something chore-y, because it feels like "work" to your brain. If you decide instead to go play video games for 15 minutes, it will be much much harder to stop yourself and go back to doing work at your computer. While you're still in work mode, do work-like things.
#7 Set a lunch time and stick to it!
Setting a lunch time and actually using all of that lunch time decompressing is important. Make sure you set it at the same time every day and you actually go to lunch at the time you need to. We often get sucked into projects and miss our projected lunch times due to not wanting to be able to stop, but splitting up your day and having lunch in the middle is a nice way to take a break from work and come back fresh.
#8 Have a tasking system in place
Tasking for most work-at-home employees is important. It's how you know when something has to be done and when it has to be done by. hasOptimization currently uses Wrike* to handle projects and tasks associated, but Trello, ClickUp, and others are good systems you can use to stay organized. Even a designated note pad with a written to-do list can be really helpful, and has the advantage of showing you the visual of crossing off accomplishments. 
#9 Keep good notes
This is especially important before you sign off for the day. If you have a propensity to pack your stuff away and shut off your computer for the night, make sure you're leaving notes for yourself about where to pick up. A tasking system, like in tip #8, can be helpful in keeping you on track for this.
#10 Restart your computer every once in a while (and clean it up)
If you're like some of us at hasOptimization, you probably just leave your computer running from day to day and come back to your work the next day. Sometimes that means your computer can just be running with the same windows and applications open for days and maybe even weeks on end. Remember at the end of the week to clean up unused things from your desktop, from your downloads folder, empty your trash, and restart or shut down your computer.
One method Aimee likes to use is to make a folder at the end of every week, move everything from the desktop into that folder, then delete it if it has never been accessed after a period of a couple of weeks. This works much like turning around hangers in your closet to get rid of unused clothing.
We hope these tips will help you successfully work from home! What do you do when you work from home? Let us know if you have any additional tips in the comments below!
*Full disclosure: this is an affiliate link. If you sign up to use Wrike, we'll get a little cut of it. Thank you!