Posted by Aimee Cozza on October 7th, 2019
The short answer: YES!
Ready for the long answer and the proof?
While browsing a Facebook group the other day, I was surprised to hear that a poster commented saying something along the lines of "no one wants to read a blog". This shocked me, but at its essence, it told me that this poster (and everyone agreeing with them) had convinced themselves that blogs have no value, and therefore give no value, which means that people shouldn't spend time on them. This comment couldn't be further from the truth.
What makes a successful blog?
Let's take a look at some successful blogging sites that readers may misconstrue as "news":
Lifehacker
Gizmodo
Kotaku
Ars Technica
Comicbook.com
The Verge
That's just a small handful of them! While these sites can also deliver news, they're generally considered blogging sites. They've got authors writing about a topic, and sometimes even delivering their opinions or expertise on that topic, based on real-time events, social media, or other information sources. Not much different than a news site, right? Your news feed on your phone is probably overrun with sites just like these that you access nearly every day and read articles on, so the idea that "no one wants to read a blog" sounds ludacris. However, perhaps the poster meant to say "no one wants to read a personal blog" instead?
Businesses can harness blogging in a very real way and garner real results
It has been proven time and again that blogging can bring in more visitors to your site who may be searching for professional opinions or information regarding a topic or a market that you have expertise in. Displaying your expertise in real-time can help build customer confidence. We've gone over this in depth plenty of times in why you should blog and how you can blog most effectively in our own posts, but we wanted to share with you some metrics that can help sway your opinion.
Who has time to blog?
The unfortunate reality is that many business owners simply don't have the time to blog. That is why before we're showing you these fun metrics, we want to tell you that almost all of the blog posts driving traffic are created by hasOptimization. If you'd like to introduce a blog to your business page, but don't have the time to write, we offer content creation services for just such a need. Feel free to contact us to get started!
Now, on to the metrics…
These metrics were taken over the same 64 day sample (July 1st, 2019 to September 4th, 2019) but give a good idea of how blog traffic can help increase your overall site traffic.
Case #1: Client Bernstein & Mello, PLLC – Attorneys
This client, attorneys in Nashua, NH, began utilizing our blogging/content creation services in June of 2018. Lines 1, 3, 4, 5, 7, 8, and even 10 are all blog posts, with content created by hasOptimization coming in at 1, 4, 5, 7, and 8 respectively. Of the 416 users shown in this view (there are more lines past 10 not shown; this view only accounts for 50.86% of the traffic on this site), 280 users are brought in from blog traffic. In the top 10, blog posts account for 67% of users visiting the site.
Case #2: Client Greenblatt Law, LLC – Attorneys
This particular client has taken to creating their own content, lending a level of experience and sophistication that has really driven traffic their way. Lines 3 through 6, 9 and 10 are all blog posts and the blog page itself, ranking at number 5. Of the 316 users in this view, 75 land on a blog post or the blog page, meaning 23% of traffic in this view comes from the blog.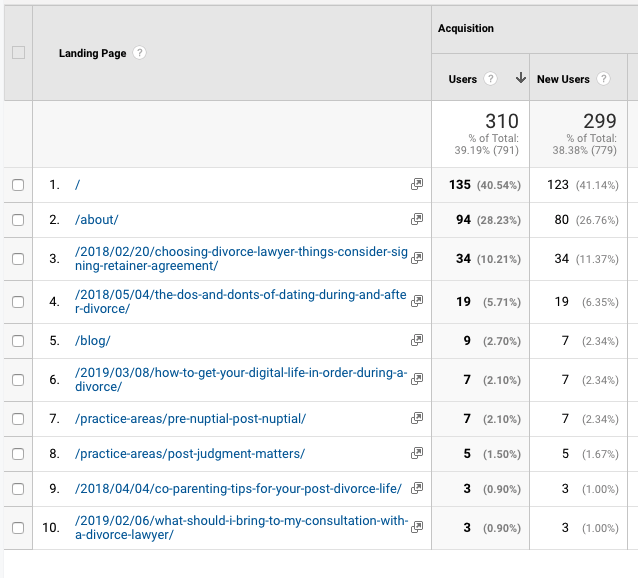 Case #3: hasOptimization – Marketing & SEO
Who would we be if we didn't have a blog ourselves? Nearly all of our website traffic is driven in via blogs, especially ones that end up going viral. All of our top 10 ranking pages are blog posts, with exception to line 5, which is our homepage. Of 1,225 users shown in this view, 1,180 came in through blog posts. That's a whopping 96% due to blogging.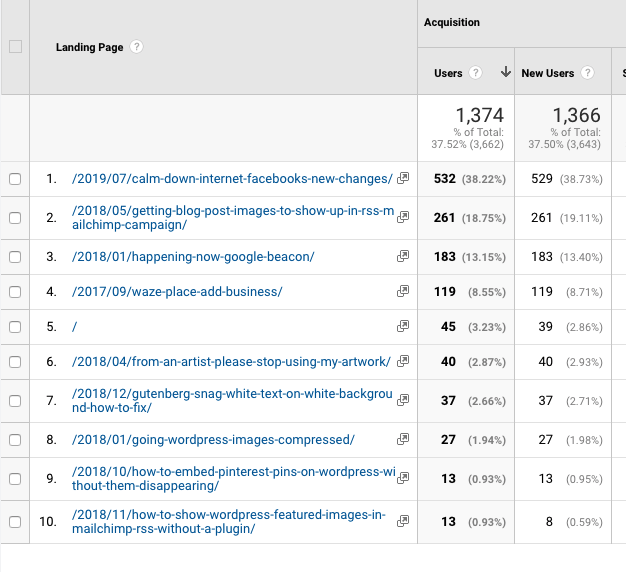 Case #4: Central Lakes Region Movers – Movers in NH
This client, a moving company in New Hampshire, began taking advantage of our blogging services as far back as 2015. One of their most popular blog posts, posted in June of 2015, has been ranking in their top five landing pages since then. With exception to lines 1 and 7, all of these are top ranking landing pages. Of 897 users in this view, 646 came in through blog posts. That's 72% of traffic coming in through blog posts.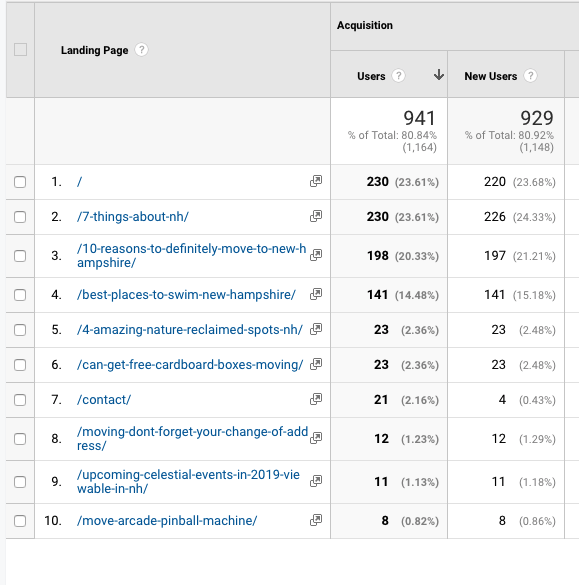 Patience is a virtue
As with anything on the web, it takes time for your site to be found, indexed, and start generating traffic. Blogging is the same way. You can't make a singular blog post and hope for fame and fortune. You need to set a realistic schedule for yourself if you plan to write yourself, or have your marketing team take care of your blogging on a regular basis. Consistency is key, and creating great content can definitely help you get found on Google.