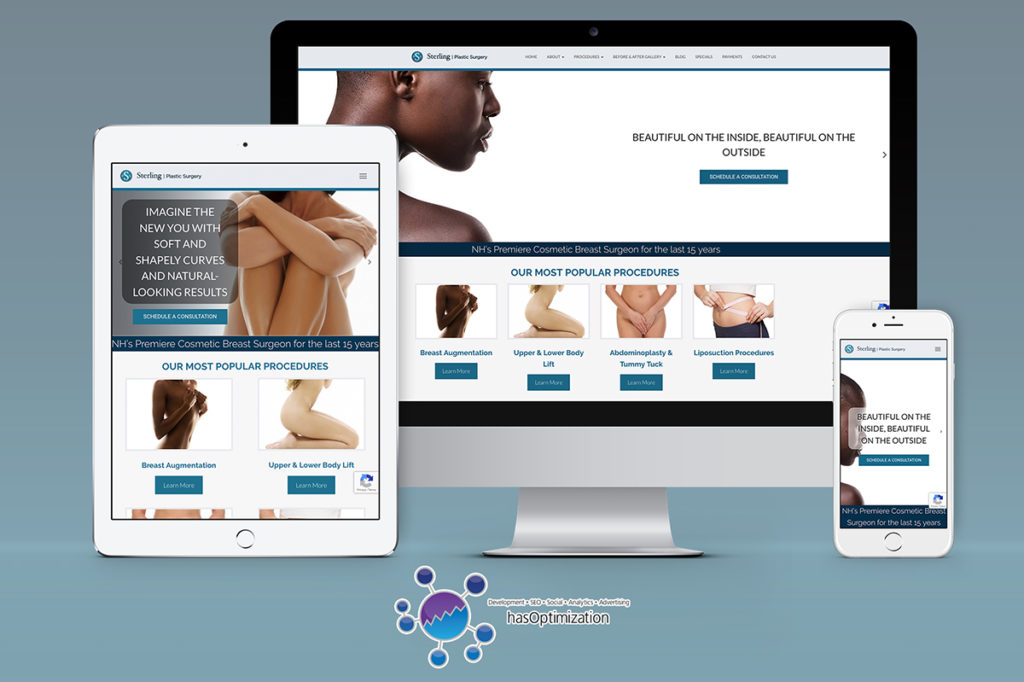 Posted by Aimee Cozza on May 29th, 2019
hasOptimization is proud to announce the launch of a new website for Bedford, NH premiere plastic surgery office Sterling Plastic Surgery! This website was a long time in the making and boasts some new upgrades for the office that we're sure they and their potential patients will find useful.
Sterling Plastic Surgery has been a long-time client of ours. We inherited their site, but did not originally build it. Upon inspecting their site, while they were using WordPress, some of the theme-specific items were no longer working or needed specific "hacky" solutions to get properly functioning. This can happen with any aging theme, especially one that relies on the use of plugins that can be abandoned at any time. Their website, while on the outside looked and functioned fine, was beginning to fall apart. We were unable to edit sliders, accordions, and other functional elements on the site, making it hard to keep information updated. On top of all of this, the structure of the content that was on the site was a bit lacking, making it hard to find what you need quickly.
Additionally, we thought the current color choice was a bit dark for a surgical office touting to be one of the very best in the area. We wanted to give the whole site a bit of a… Well, facelift, that was more indicative of their office, easier to navigate, and had better content and features.
The main thing we wanted to tackle was their procedures menu:
Sterling Plastic Surgery had a classic case of "too many items" in their menu, without the benefit of any sort of categorization to help make it less of a "word salad". We took all of their menu items and nested them appropriately under where in the body those procedures occurred. People could still access a full list of all procedures by clicking "procedures", but this considerably tightened up the menu and would help keep it from being overwhelming.
Additionally, we revamped their before and after gallery with custom post types which will allow a more programmatic approach to posting the before and after items. This also automatically introduced pagination on galleries that had a lot of gallery items, making it far less overwhelming. Once the post type was established, it was then easy to hook into the gallery to show before and afters in small snippets on the associated procedures page, allowing individuals to preview Dr. Sterling's work.
Lastly, we also nested sensitive before and after photos under accordions to allow for safe work viewing.
With this new site came a boatload of new content, and we will continue working with Sterling Plastic Surgery to generate compelling content for future pages.
Does your company's website need a facelift? Contact us today!