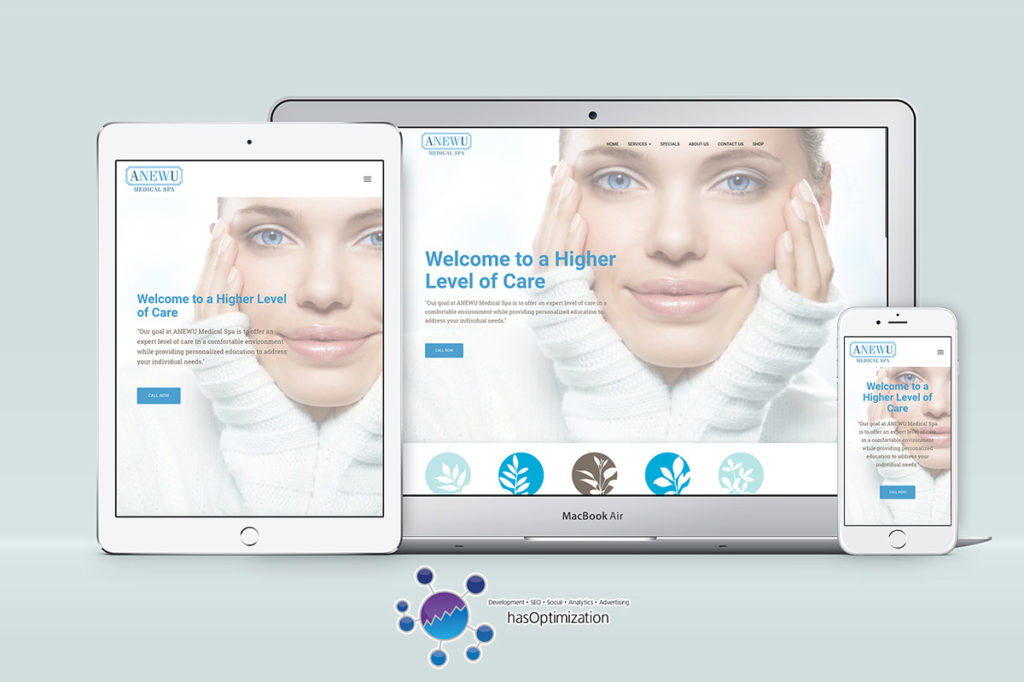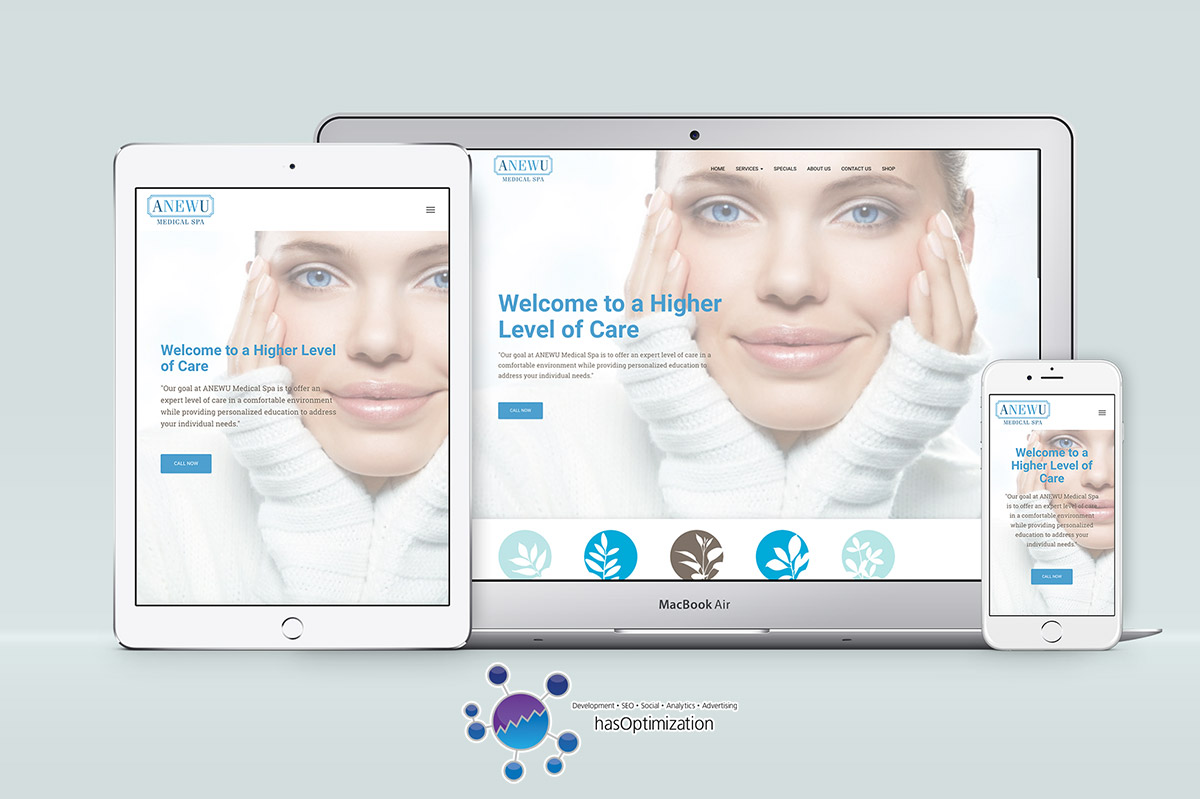 Posted by Aimee Cozza on December 3rd, 2018
hasOptimization is proud to announce the launch of a new site for Merrimack, NH medical spa ANEWU Medical Spa. ANEWU Medical Spa originally came to hasOptimization looking to improve their ad performance on Facebook and around the web. While we were glad to help, as we were assisting to prepare new advertising methods, we noticed that there was one big problem: ANEWU's current site was lacking in a lot of elements that are critically necessary for success when it comes to advertising, especially on mobile platforms like Facebook.
First and foremost, the site was not fully responsive, making it hard to navigate on mobile. There were issues where content would not load properly or at all, or even stretch out the screen, resulting in the dreaded horizontal scrolling on mobile. Information was cluttered and hard to decipher; the basic template of the page was not the most visually appealing, and resulted in pages that looked more like Wikipedia entries rather than service pages delivering the necessary information to potential customers for services.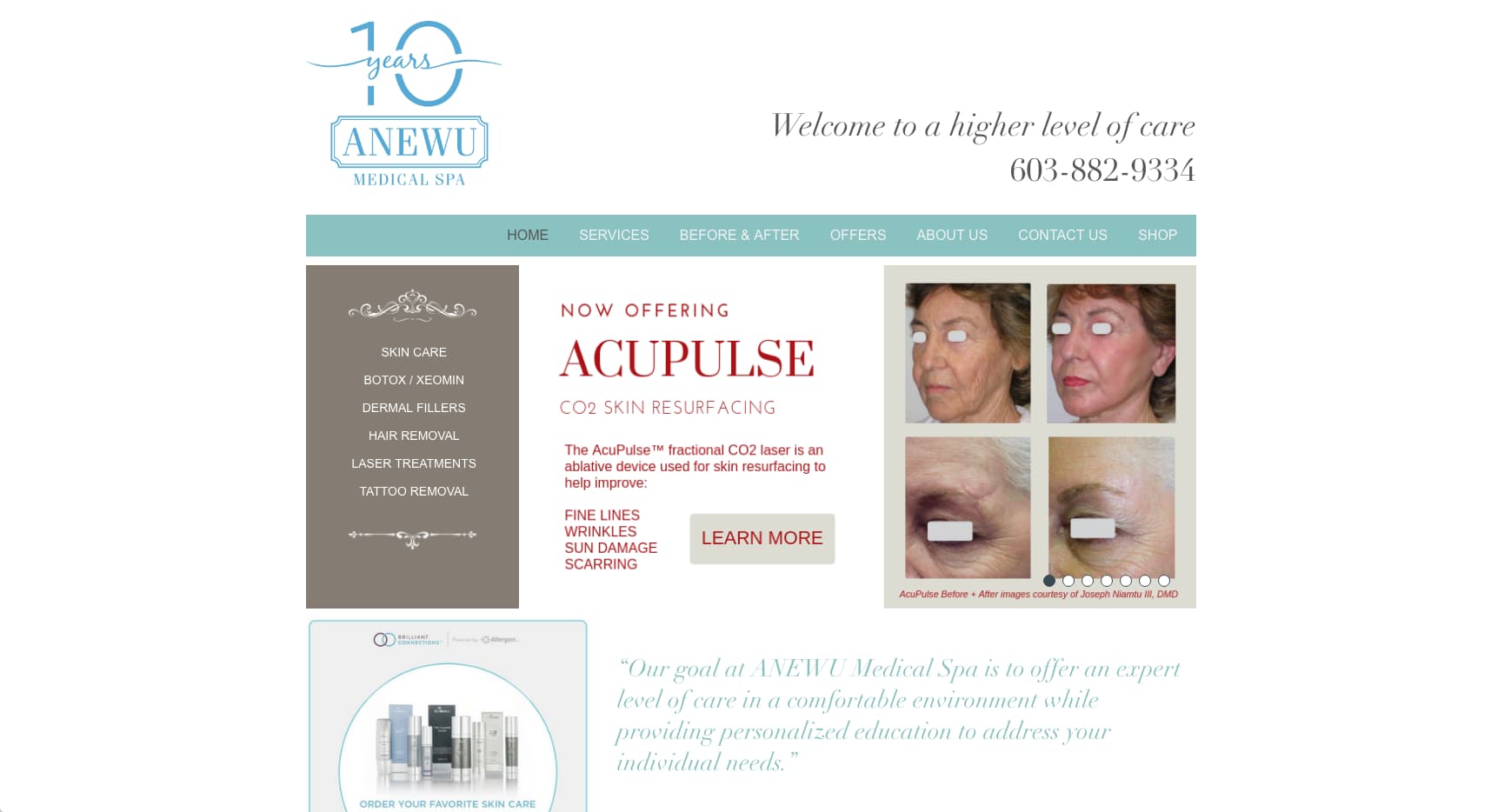 We always say… Advertising dollars spent sending someone to a hard-to-navigate, broken, ill-loading, or otherwise unclear page are advertising dollars wasted. Site owner Holly agreed, and we sped off to create a new site template that would not only function properly on all devices, but also help to optimize her site for potential and new clients, allowing them to find all of the information they needed quickly and easily.
We conducted the following steps and then some to get ANEWU there:
Created a brand new homepage that is easy to change the content, if necessary, on. It directs people to the most popular services and gives quick links to additional content such as specials and the email marketing list. The page is not cluttered with "too much" information, which happens with many medical spa websites, and was one of Holly's fears. We kept the homepage mostly minimal.
Consolidated content and organized it in a way that is more visually appealing and less daunting to visitors. We hid FAQ information under accordion-style buttons, allowing users the control to view only what they want to on a page, without having to endlessly scroll through textual information to get to visual aspects such as before and after photos. We also consolidated Holly's before and after photos from their own pages to better spots on their corresponding service pages.
Created clear and concise landing pages for services ANEWU Medical Spa will be advertising on Facebook. These have clear call to actions and give people a super easy way to read about the service as well as contact the spa about getting the service.
Loaded the site with fresh, new, optimized SEO data that will help ANEWU to rank higher in search engines.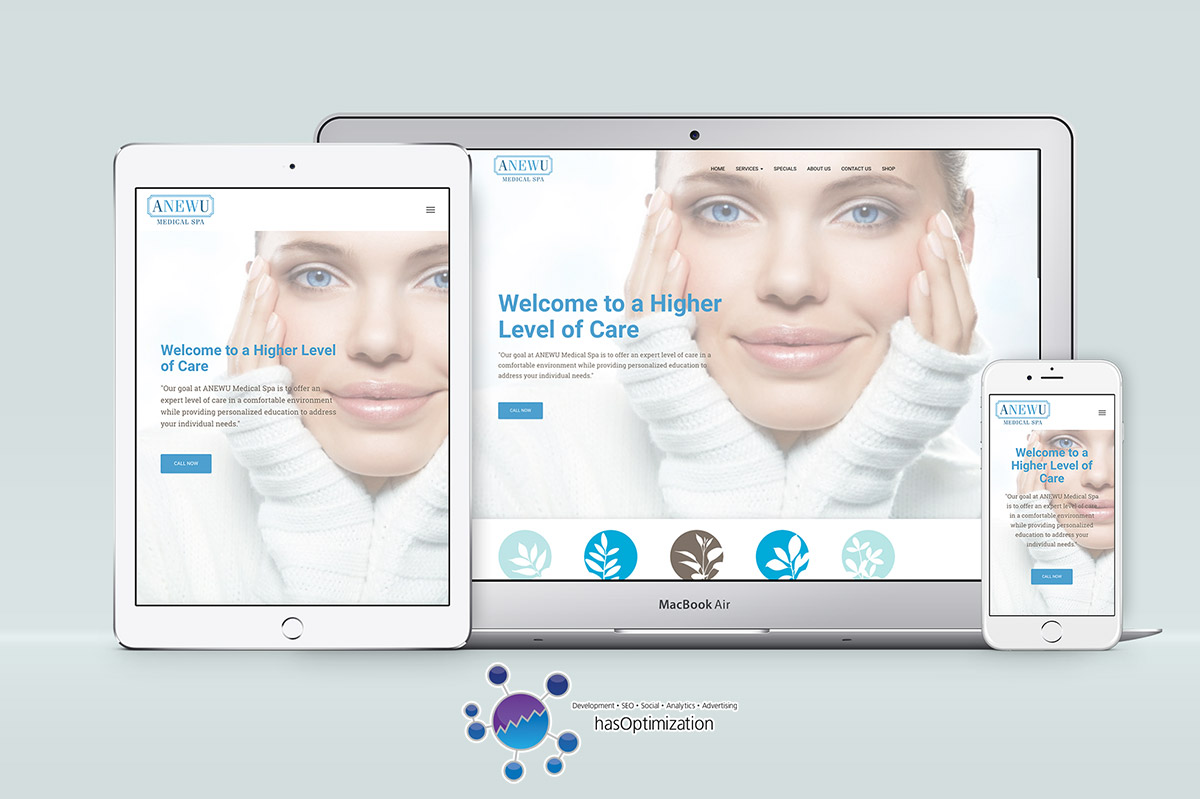 The new website design will allow visitors easier (and more visually appealing!) access to information they need, helping Holly to reduce her bounce rate.
Need a new website for 2019? Contact us today to get started!