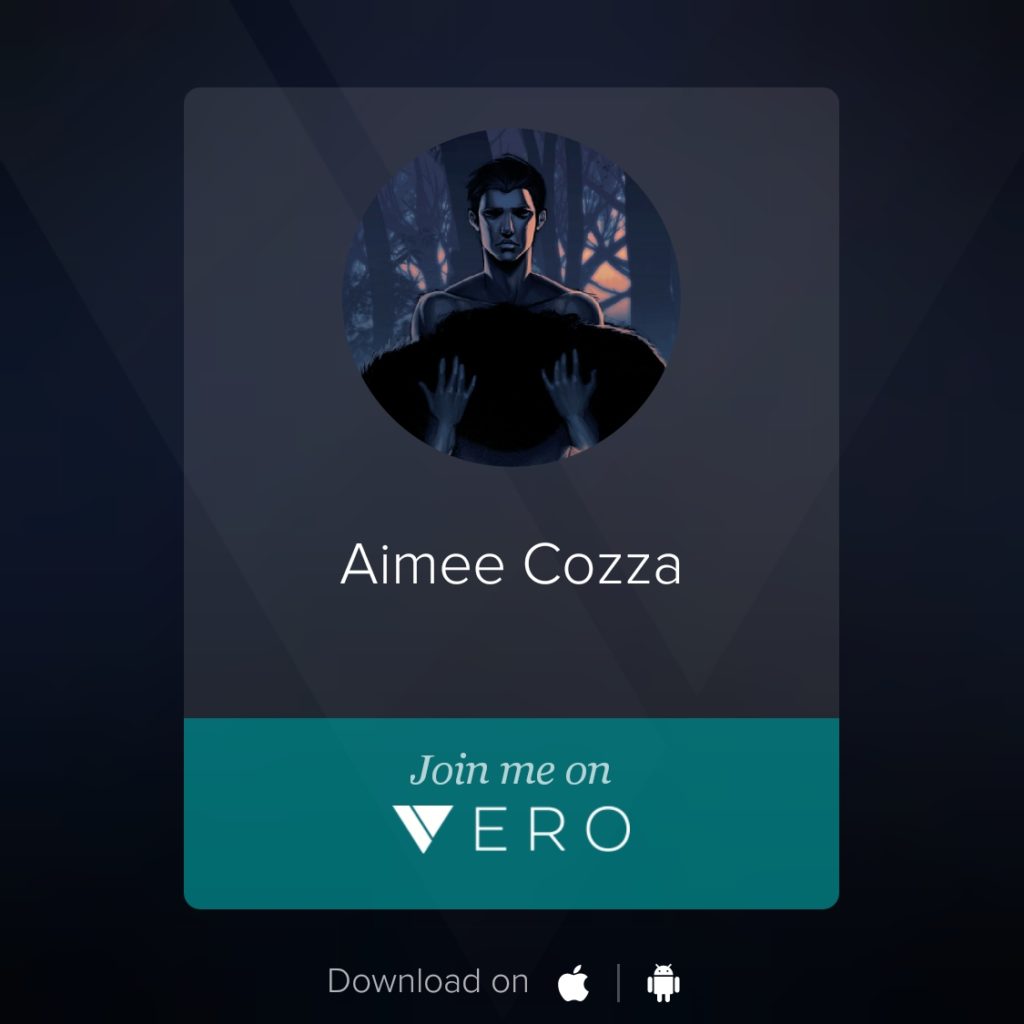 Posted by Aimee Cozza on February 26th, 2018
It's 2018. People are sick of Facebook, Instagram, and Twitter. People are tired of "the algorithm" and yearn for the old days of seeing their posts in order from their friends. If you've spent any time on Instagram this weekend, you may have noticed that a new social media app has gone viral, and with good reason.
What is Vero?
Vero is a new social media app/platform that allows you to share visual information with followers or connections, to put it simply. Created by Vero Labs Inc, Vero is available exclusively on iPhone and Android phones. Vero is not currently available for tablet devices, and there is no access to Vero or its account signup process through the web on a desktop computer, making this app only useable on your phone, much like Snapchat or how Instagram was originally born.
"Vero makes sharing online more like real life, choosing who sees which posts."
Vero promises to give back control of your social feed. Instagram users who are sick and tired of seeing posts five days later from friends and family are jumping aboard with Vero in hopes that what it promises will be better and more useable to them than Instagram currently is.
What makes Vero different from Instagram or Facebook?
The big difference between Vero and Instagram or Facebook is the chronological order in which your posts are displayed. There are no tricky "algorithms" that require your post to go viral before your friends and family see them. Since many users find Facebook and Instagram's algorithms hard to bypass, and they don't see things getting better, it makes sense for a new contender to attempt to remedy this problem.
Vero has a lot of differences from Instagram, but does share some great similarities to Facebook. You can set audience lists — Close Friends, Friends, Acquaintances, and Followers — and put people in certain "buckets". You can then post to your audience of your choosing. If you want a post to only go out to your close friends, you can do that! This type of privacy setting is simply not known on Instagram, but Facebook has been doing it for years. You can also post privately.
Vero doesn't just allow you to share photos, links, videos, and posts. Vero also allows you to post movie or television recommendations. You don't have to post a recommendation, but you can if you want to. You can share what you're watching, and at the time of posting it, you can add your own comments, then select whether you recommend or do not recommend it. Unfortunately you can't go back and change your preference, so for example if you bypassed the recommendation feature you can't recommend it after, but it's a cool feature no less.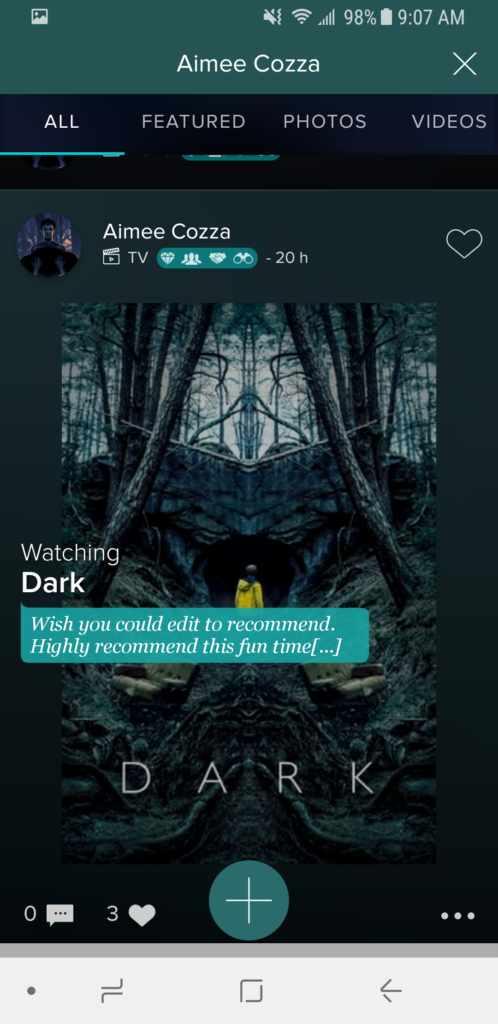 On top of privacy sharing features, you can also choose what you want to see from your friends, family, and connections. If you have one friend who just posts annoying videos all the time, you can uncheck "videos" from what you see in their profile, and they'll stop showing in your feed. It's that easy.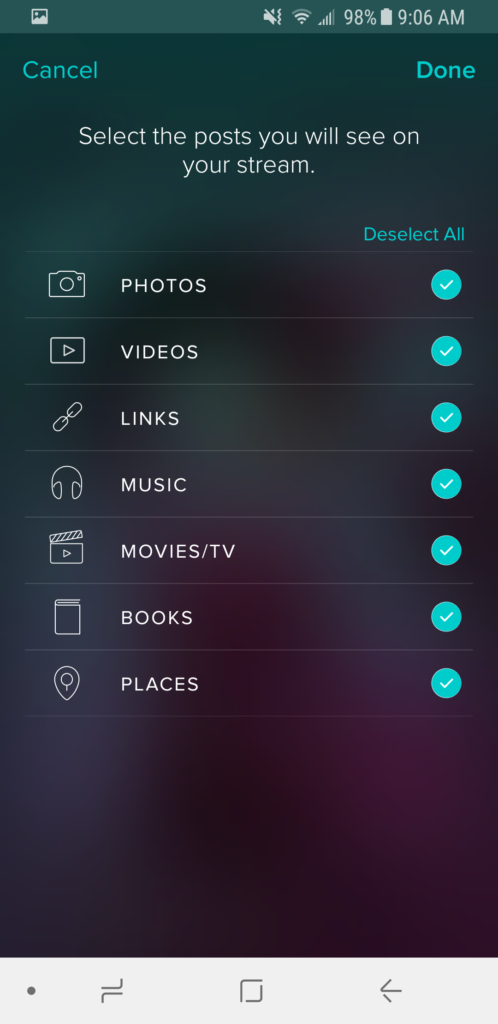 You may notice Vero's interface is a lot different than Instagram as well. Rather than the usual light layout that flashbangs you when you check your phone at night, the interface is dark and intimate. Your photos float in the background, blurred out, and each image is an immersive experience. The interface reminds me of an app I used called Talnts, which was geared around creative people as a social media platform. It never took off, but the interface is very similar.
The best part about Vero for me? You can share "odd size" images without any cropping or otherwise on Vero. You don't have to worry about cropping your image to a square or an awkward rectangle to post it on Vero. You can just post your photo and go!
Vero doesn't use usernames, so whatever you set as your "full name" is what people will use to find you. This is both a blessing and a curse — for example, I use a username on Instagram that is not brand consistent (I know, I know, but I'm hanging onto my username for sentimental reasons), but my Vero account is brand consistent. Migrating people to follow me on Vero has people asking "how can I find you on Vero?" so keep this in mind while creating your account.
Does Vero own my images when I post them?
A Facebook user commented saying that word is Vero owns all images that are posted to its service. This goes around quite a bit on the web — that social media services own your images once you post them. While you do agree to grant them some rights (as legally, they cannot showcase your images if you don't), you don't give up rights to your images or content when you post. Vero's Terms of Service explicitly states:
You are and shall remain the owner of the User Content… you create, provide, or otherwise make available through the Service and Vero claims no ownership rights to your User Content; however, in this Agreement you grant Vero a limited license to your User Content to: (a) provide the Services; and (b) to use your User Content for the limited uses identified in our Privacy Policy.
How well does it work?
While testing it this past weekend, I had a similar experience as many other people. Since it had gone viral, Vero's servers were overloaded. I liken it to Pokemon GO the first day it launched. Vero requires you to install the app and sign up on the app. It also requires a phone verification to confirm your account. Vero says it will "call" your phone, but it wants to send a text instead. You can click for a phone call, but unfortunately since the servers are so overloaded, you won't get your phone call until hours later — and if you tried to do it 12 times, you'll get 12 verification phone calls. I struggled to get verified — the Vero app told me the code they sent me was not correct, but eventually it let me in, so I'm not sure how they'll look to rectify that problem.
On top of problems with account creation, loading images and posting them are slow and problematic — still due to their overused servers. I run into problems with posts just not uploading and giving me an error. There's no clear-cut way you can see whether a post actually gets posted; there's no "posting" bar like on Instagram, Facebook, or Tumblr to watch for progress. You just have to sit and hope a red error does not pop up. Hitting "retry" on the erroring posts does nothing; it's easier just to delete it and start over.
I also struggled to search for people. Sometimes it'll show users, and other times it'll show no one. This is probably another symptom of their server overload issue.
Lastly, if I close out the app, sometimes it won't load again, it will just sit on the loading screen forever. Curious to see if it was "hangs forever" or me being impatient, I set my phone down with no timeout, and after 20 minutes of the splash screen, I gave up. This may also be a problem of overloaded servers, so we can hope it gets better with time.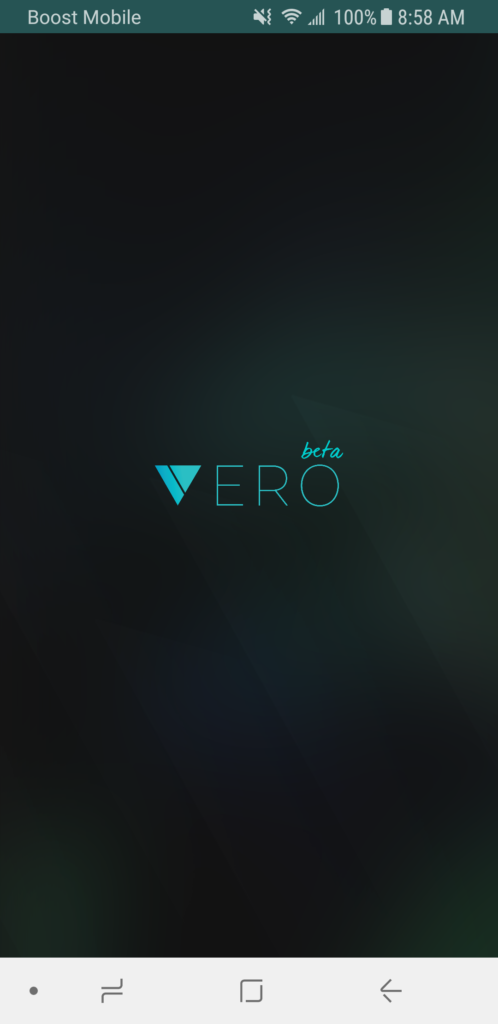 Features it has
Ability to restrict your post privacy amongst friends and family
Most Recent post feed rather than Top Posts
Chat ability built into the app
Ability to share clickable links in your descriptions
NO ADS CURRENTLY! No way to "sponsor" or pay people to see your posts above others.
Features that are missing, what I'd like to see
Since it's beta, there's plenty of things missing or just not working at the moment. Here are some common features I'd love to see in a future build of Vero to make it even better:
Ability to edit your TV/Movie posts to change recommendation (or add it)
Ability to edit your post and change the privacy setting after you've edited it
Ability to draft posts, save posts, or schedule them for later
User switching/dedicated login screen
How do I use it?
One of the questions all my friends who know I'm social media savvy had this weekend was… How do I use this thing? The interface is new and different from most social media apps. One of my friends said she knew what older folks felt like using the internet when she tried to use this app. Don't worry — I'm here to help.
We'll go over some of the basics. Since you have to create an account once you open the app, we won't go over account creation. Let's talk about creating a post.
Creating a Post
Click the "+" button anywhere on your feed.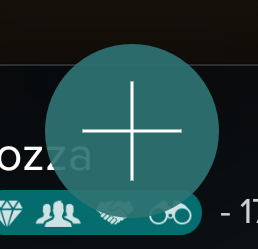 This will then take you to a screen asking you which kind of post you'd like to make.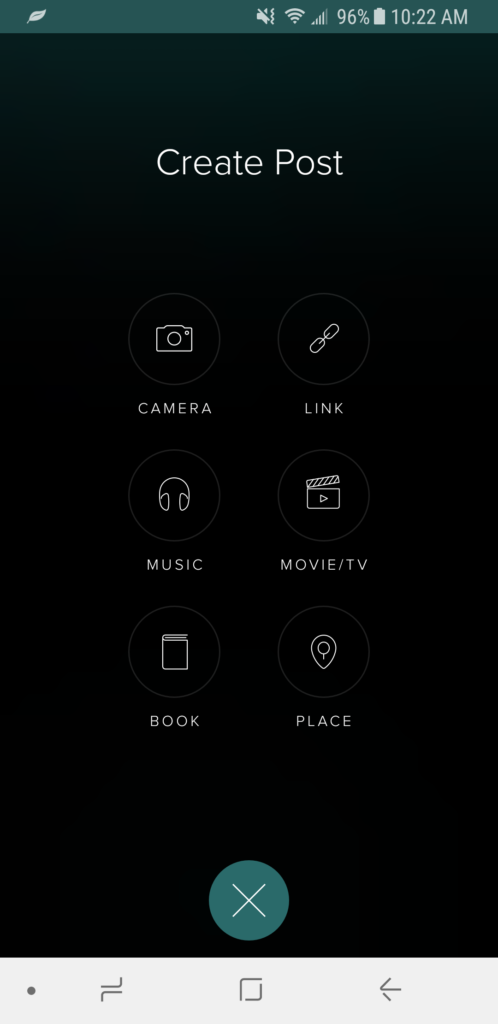 Let's make a "camera" post (this is a photo post). Click on "camera".
The first thing you need to do, like Instagram, is choose which photo you want to share. Unlike Instagram, you will not see every image on your device. You may notice that images are missing. This is an easy fix; you will just need to change the folder that is currently being searched on your device. Click on "camera" on the top middle of your screen, and you should be treated to a dropdown of all your image folders on your device. In my instance, the image I want to share is in my "Tumblr" folder for Tumblr downloads. I'll click on that, and I've found my image.
You can select more than one image to share in your photo post. Like Instagram, Vero allows for multiple images in one post. Just select all images you want to share (up to 9), and then hit the next button.
Now you will want to start writing your description or comments (if you have any). This is also where you will house your hashtags (yes, hashtags work), and hyperlinks. Unlike Instagram, Vero allows you to share links in your description that people can click on, rather than forcing you to use the singular "bio link" to drive traffic to your products or site.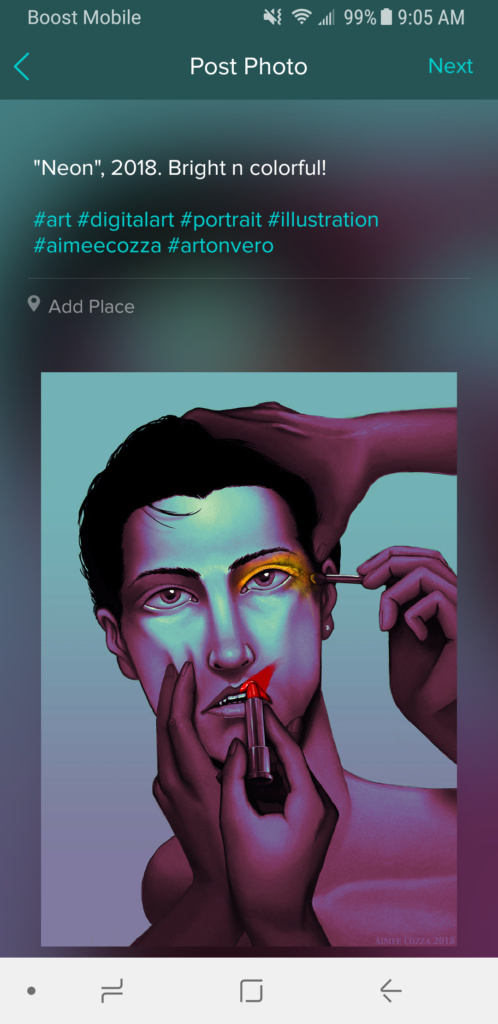 Click next. The next screen you will go to will have a few options for you. By default, it will be set to these settings:
Right now my post is only being shared to "close friends" (diamond). I can tap on the 3 people icon to share with "friends" and go to the next level up, or even further to "acquaintances" (handshake), or everyone "followers" (binoculars; this is the equivalent to public posting). I can also click the padlock to make a private post, and I can cross post from here on my Facebook or Twitter page by clicking those icons.
Remember to set your privacy settings in your post, because you can't change it once it's posted!
Other Confusing/Cool Features
There are a few non-traditional social media things you may be scratching your head about on Vero. Some features are even hidden. Let's go through a few.
Followers/Connections/Following Numbers
This was the most confusing for many people I was speaking with about Vero. You have 3 different metric numbers on Vero. Connections, followers, and following. Connections are people who choose to connect with you (I believe this gives them the ability to chat with you). If someone connects with you, they are automatically following you, so a connection does not need to follow you first in order to connect and see your posts. Followers are people who simply watch your posts. Following refers to the people you are following.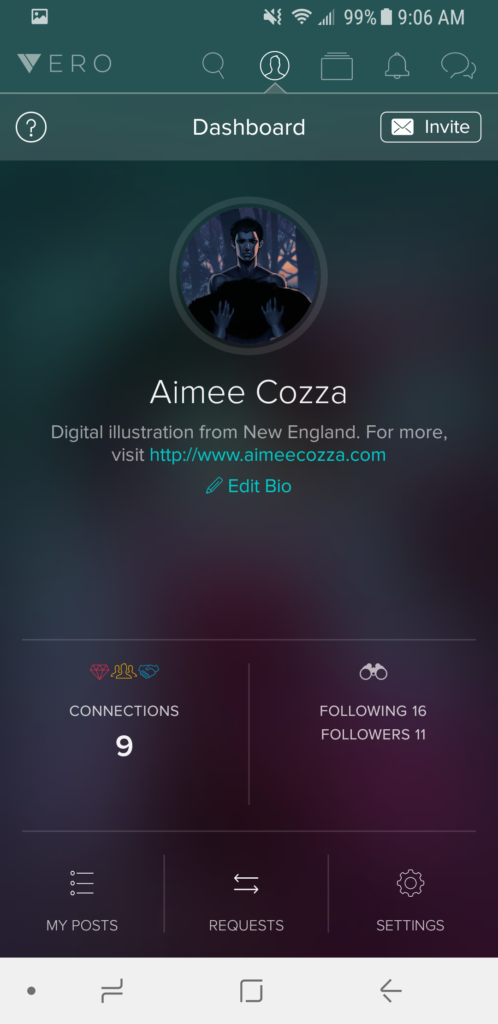 In my example, I have 9 connections, I'm following 16 people, and I have 11 followers. Technically, I have 20 people currently subscribed to my posts. 11 followers + 9 connections = 20 viewers. It's a weird metric but it's something we'll have to get used to.
Hidden User Features
Let's look at some cool user features. Click on your connections tab (a person in a circle):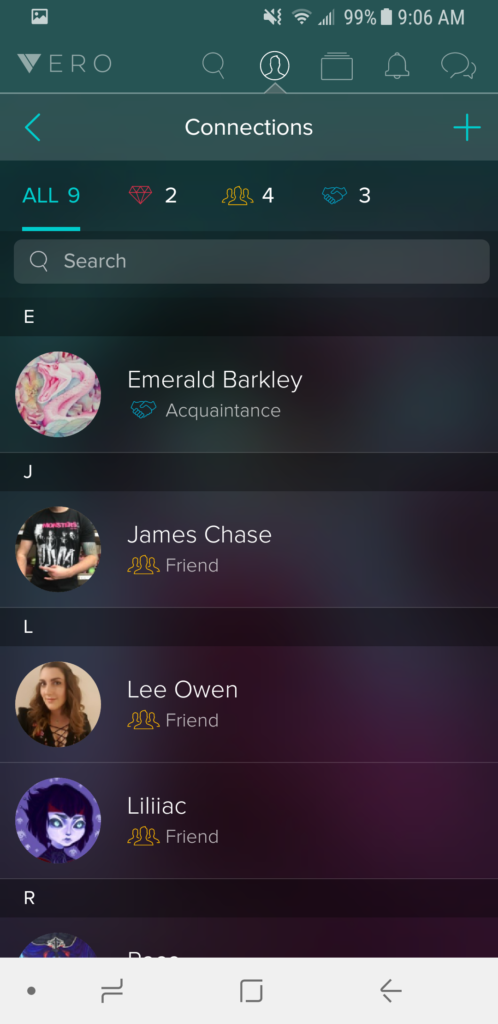 Then click on a user you want to investigate. This will take you to their account card.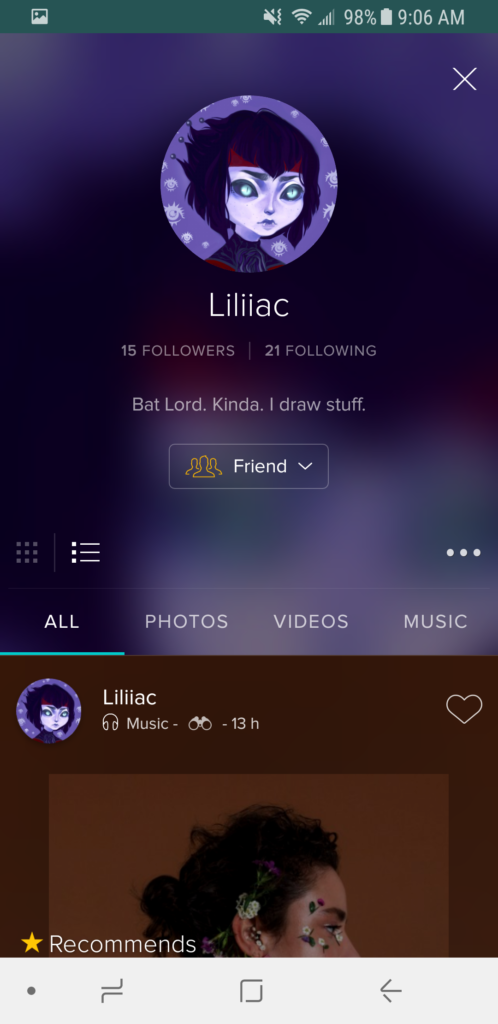 Standard stuff here. You see their feed with options on how to view it (grid or list view). You can change their relationship docket up or down from here as well. You'll notice there's no "unfollow" button… Disconnecting from someone is a little harder than clicking unfollow on Vero, which is good to stymie people who follow just for follow backs. Let's click on the "…"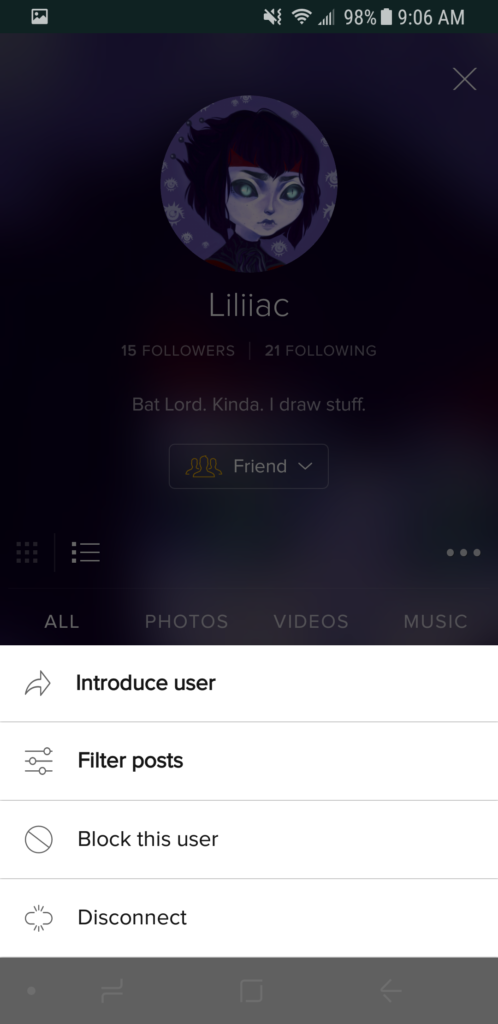 Here you'll see some interesting features. You can introduce the user, which allows you to do a shoutout, which will look something like this (with your own comments, of course):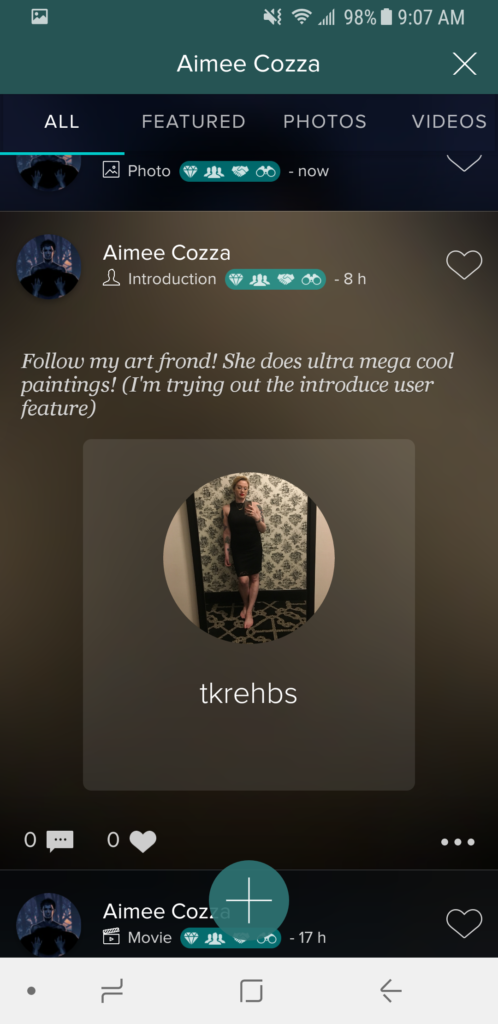 You can also get to the filter posts screen, which will help you turn down the volume on your annoying friends: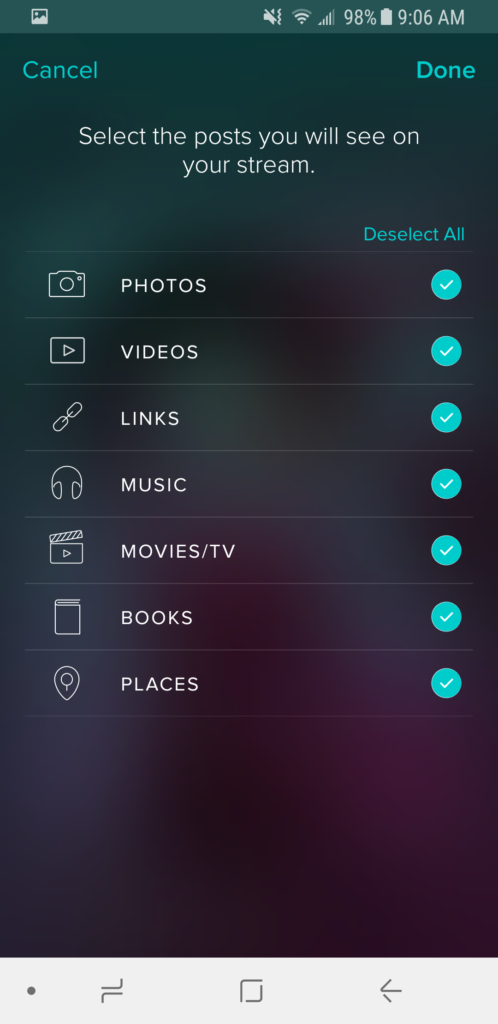 You can also block a user from here, and disconnect from them.
What should I do now?
Since Vero is in its early stages and is very buggy, my suggestion to you would be to create an account and share with your friends that you have one to get on the "viral train", so to speak. Vero may fizzle much like Ello, but you never know what could be the latest and greatest. I'd save myself some frustration and wait a bit before loading up on posts since it's buggy and slow at the moment.
I'm no Vero pro and I'm just learning as I go, but I hope this post helps you get started on Vero. Have any tips or tricks? Let us know in the comments below! Oh, and you can follow me on Vero for more great posts. 🙂