When you hire me to do SEO, online marketing, UX optimization, advertising, social media, or anything else:
Consultations are always free.
Marketing services will always come with education.
I bring you new marketing ideas not because I want to make more money from you, but because I think that my ideas will help you do more business, and you will want to keep hiring me and referring your friends.
While there is a lot of SEO and marketing information freely available on the internet, it seems to me that a lot of SEO companies are in the business of not explaining themselves to their clients. Perhaps they believe that if they educate their clients, the clients will stop hiring them. Perhaps they like keeping SEO a 'magic trick'. Perhaps they don't really understand how Google works, but my opinion is that you can't tell your client "Google search traffic is highly important to your business" and then expect them NOT to turn around and Google search "how to do your own SEO".
Fact is, whether you CAN do your own SEO is beside the point. I CAN do my own sewing when I want a jacket altered, but I don't. Why? Because hiring someone to do it is ultimately cheaper than the time I would spend learning to do it right and then doing it, and also likely to result in a better final product. SEO and online marketing are the same way.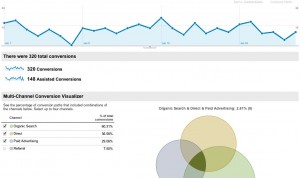 When someone hires me to work on marketing their website and their business, I take the time to educate them about how SEO works, what I can and can't do, and what sort of results they are likely to see. I do not worry about them taking this information and running to do their own SEO. Quite to the contrary, I see this education as an explanation of my value to them. From the client perspective, online marketing looks like a black hole that their money falls into. It is hard to see the connection between the spend and the result. Educating clients bridges that gap in a couple important ways:
It usually makes it quite clear at the outset that the client does not currently have the knowledge to do marketing themselves, but that I do have that knowledge (no longer throwing money into a black hole).
It creates a more tangible, immediate product (the education) that they have received from me, even if I accomplish nothing else for them (though, of course, I will!).
When they see results, the client is more inclined to connect the result to my work, rather that thinking those results might have happened with or without me.
Take my alterations example above. If a tailor explains to me how she sews my jacket and why she chose the thread, it does not make me more likely to do it myself the next time. Rather, it assures me that my tailor is intelligent and thoughtful, and I'm more likely to feel good about paying her fee and referring my friends to her.
I do not do what I do because I want to make large amounts of money. I do it because I am good at it and I enjoy providing people with a service that helps them enhance the awesomeness of what they do.
I measure the success of websites not by rankings or number of links, but by their traffic, their conversions and the satisfaction of their owners. I measure the success of my business not by dollars, but by whether people want to refer me to their friends and family or hire me for additional work.
I am here to enhance the awesomeness of your business, and explaining how I do it does not take away from my value. This is not a magic trick. This is what I do best, so you can do what you do best.