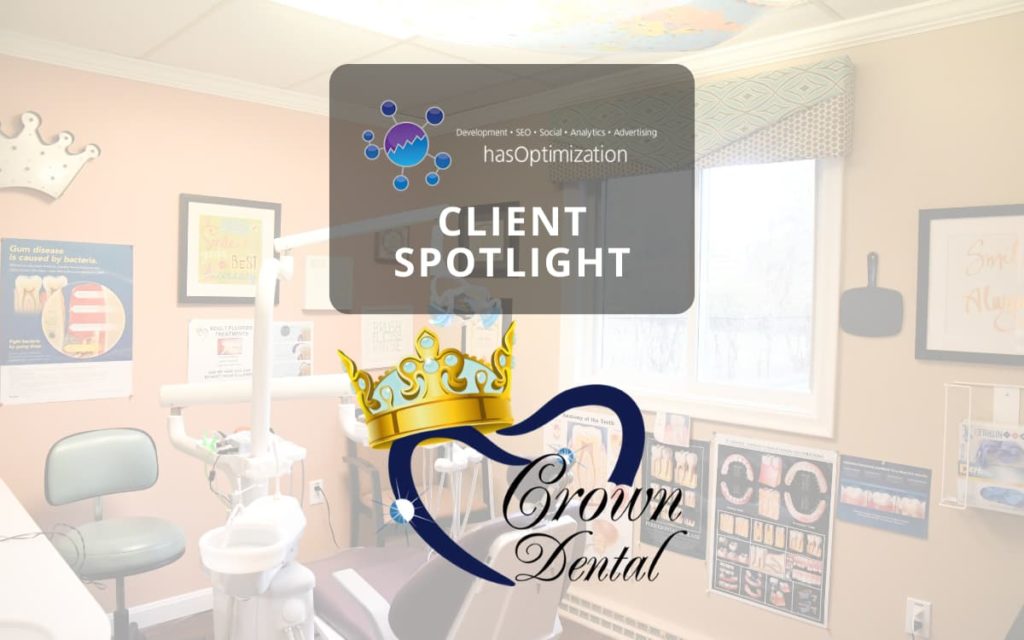 Posted by Erin Lafond on September 29th, 2020
Our clients are our favorite people because they are the best at what they do. One example of this is Crown Dental, an amazing family dental practice that we love working for!
Dentist in Nashua, NH
Crown Dental is located in Nashua, NH, near the historic Holman Stadium. They believe in individualized care and giving proper attention to any patient concerns, large or small. Crown Dental is headed by Dr. Jennifer Chen who graduated from Vassar College with her BA in Biochemistry and from Tufts School of Dental Medicine with her DMD. She is also a proud Fellow with the Academy of General Dentistry, so you know her patients are in good hands.
Crown Dental provides a variety of services from preventative care, like cleanings, to emergency care to cosmetic dentistry, like teeth whitening.
What we do for Crown Dental
First and foremost, hasOptimization designed and created Crown Dental's website. We wanted to make sure it lived up to Crown Dental's royal name. We made sure their new website was visually graceful as well as functional, so their current and potential patients could find everything they needed.
In addition, we manage their social media to help them educate and cultivate their audience. On top of this, we handle their Facebook advertising for them, so they can get the most out of their ads. Social media is crucial for growing an audience, and we're happy to help.
We also work in conjunction with Amanda of Waypoint Writing to create fresh, innovative content that drives visitors to their website. Blog posts help establish expertise and improve search engine optimization, so potential new patients can find them, so this is an important part of what we do.
Why you should visit Crown Dental
Patient treatment and comfort are the cornerstones of Crown Dental's business. They pride themselves on keeping up with new dentistry trends, technologies, and procedures, meaning they provide only the best for their patients.
Beyond that, Crown Dental works to educate and empower its customers. They want their customers to be informed about dental health and how they can best take care of their teeth (and therefore, their bodies).
Combine this with their caring and dedicated team, and this makes Crown Dental the perfect option for your family dental needs.
If you're looking for great dental care in the Nashua area, reach out to Crown Dental at [email protected] or (603) 521-7739.