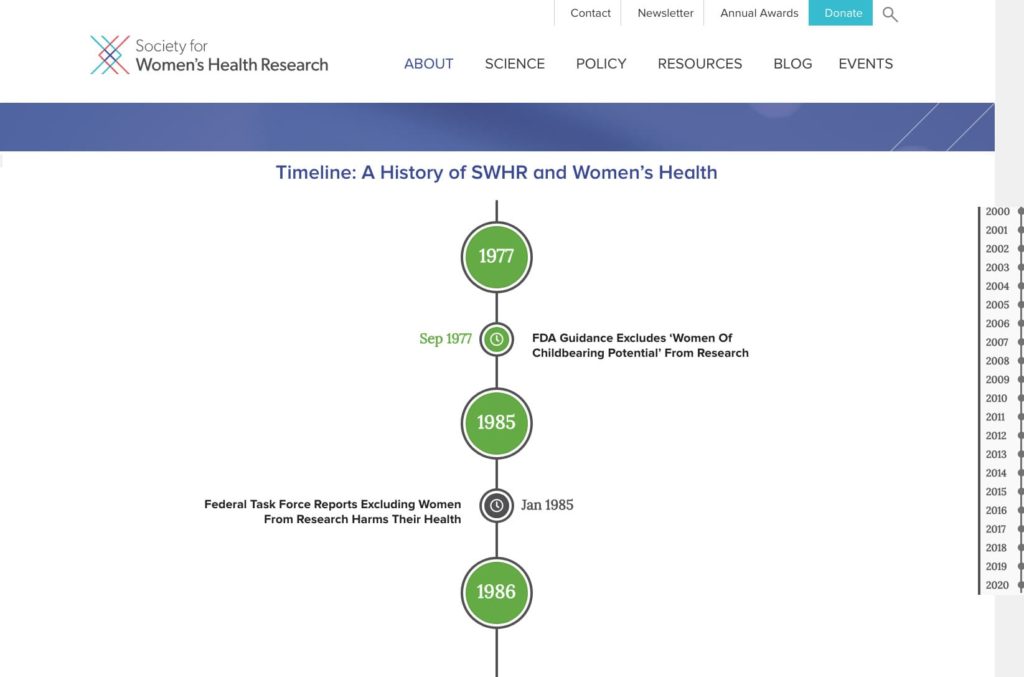 Posted by Erin Lafond on May 22nd, 2020
hasOptimization is proud to announce the launch of a detailed event timeline for the Society of Women's Health Research (SWHR). SWHR approached us with a need for a visually appealing and responsive timeline to commemorate their 30th anniversary. We were happy to be of assistance, and want to share this project with you.
Founded in February of 1990 by Dr. Florence Haseltine, the Society for Women's Health Research (SWHR) works towards equality in healthcare and to bridge the gaps existing within women's health due to an absence of research and attention. Women were excluded from medical research for decades, creating a dangerous lack of knowledge when it came to women and their specific medical needs.
SWHR has a long history of fighting for women, and their event timeline proves it. Their history starts in 1977 with the law that excluded women from medical research and goes up to SWHR's thirtieth anniversary just in January 2020. In between are a variety of events, including all the success and progress that has been made for women's health, such as the first female director of the NIH in 1999 and NIH's new policy declaring sex a biological variable in research in 2016.
SWHR's history is important, and we wanted to really highlight it in a way that was friendly to page visitors coming in via desktop and mobile device. Working with an existing timeline and style, hasOptimization helped to make this experience more interactive and visually interesting. We were able to assist the customer with a visually appealing history that was both similar to a print-out booklet version of their timeline, as well as web-friendly. We were able to work within style guidelines as determined by the print-out PDF, input all of their events (there's a lot of them!), and assist with any finer tuning details such as disallowing timeline events from the website search.
hasOptimization is proud to work with such an important and relevant organization that falls in line with our mission statement. We're happy to contribute to making its history more accessible and web-friendly, and have high hopes for SWHR's continued events. We encourage you to not only check out our work but go through and learn more about this organization and its mission.
You can see the timeline we created by visiting SWHR's website.